Movie Review: 'Kick-Ass 2' Starring Aaron Taylor-Johnson, Christopher Mintz-Plasse, Chloë Grace Moretz, and Jim Carrey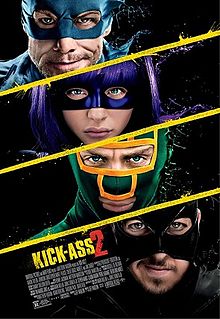 I'll be honest, when I first heard about the original Kick-Ass, I had no idea it was a part of a comic book series; I just thought it looked like a hilarious take on the superhero craze. Thankfully, the movie turned out to be a fun movie, and enough people agreed that a sequel was greenlit.
Three years later, the sequel has finally emerged. Directed this time by Jeff Wadlow (the first film's director, Matthew Vaughn, co-produced this edition), the film takes on a darker tone than the original. The result is a film that still has some incredibly funny moments and one-liners, but doesn't quite meet up to the original.
In the aftermath of the events of the original film, Dave / Kick-Ass (Aaron Taylor-Johnson) has retired from fighting crime, yearning for a normal life. Mindy / Hit Girl (Chloë Grace Moretz), on the other hand, is secretly still training, unbeknownst to Sergeant Marcus Williams (Morris Chestnut), who's become her legal guardian following the death of her father. Soon enough, though, Dave yearns to get back into the lifestyle and begins training with Hit Girl. After an attempt to fight crime goes awry, Marcus convinces Mindy to give her lifestyle up; instead of training, she does her best to fit in with the popular girls.
Seeking partners, Kick-Ass soon reaches out to other would-be superheroes. Doctor Gravity (Donald Faison) convinces him to join the Justice Forever group, led by Colonel Stars and Stripes (Jim Carrey). Soon enough, Justice Forever is patrolling the streets, fighting crime as well as performing philanthropy.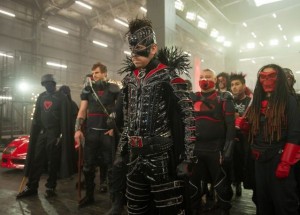 Meanwhile, in the dark shadows of his mansion, Chris D'Amico (Christopher Mintz-Plasse) is more intent than ever to seek revenge on Kick-Ass for killing his father. Taking the initiative, he and his alter-ego, (pardon my language) The Motherfucker, form his own group of costumed misfits, known as the (excuse me) Toxic Mega Cunts. Together, they set out to destroy Kick-Ass and Justice Forever.
First off, if you haven't been able to determine just be the name of the movie (or the evil villains), this probably isn't a movie to take your kids to. Although it deals with the idea of young kids striving to make a difference in the world (Moretz herself is only 16 years old), it's a pretty violent, profanity-laced film, and yes, there are a few boobies.
It's also a bit of a darker turn than the first film. While the first one obviously had some dark moments (Hit Girl's dad is burned alive while she watches), Kick-Ass 2 just feels like a more serious film. It delivers a completely valid message (you don't have to be a superhero to make a difference in the world, and helping others isn't restricted solely to beating others up), but it takes some pretty extreme circumstances for the main characters to discover this.
That's not to say there aren't some hilarious moments. At one point, The Motherfucker buys a shark but neglects to remember to take care of it, and subsequent conversations regarding it take an amusing turn. Colonel Stars and Stripes' particularly moving welcome of one member to their group was pretty funny as well. There are enough moments of levity to remind you that it's not meant to be a completely dire film.
At the same time, though, there's a bit of a dichotomy with some of the jokes, which were aimed at a younger audience. In one scene, Mindy is humiliated in front of the popular girls and seeks revenge in a rather unconventional manner. It'll certainly garner a few laughs, but it was definitely not a moment intended for sophisticated tastes.
I really didn't like the ending of the film, either. There isn't a whole lot of closure, and in fact it kind of contradicts itself. Obviously I won't reveal any information, but it wasn't very fulfilling.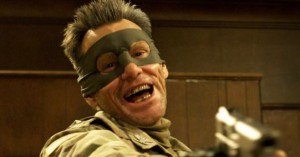 The acting in general was solid, but not great. I think Moretz has a terrific future ahead of her, and Jim Carrey was nearly unrecognizable in his role as a former mafia enforcer-turned-superhero, but the rest of the cast doesn't really stand out.
In the end, the result is a film that tries to do too much. Making an action-comedy is one thing. Layering on a morality story while trying to provide adult- and youth-oriented humor. It wasn't terrible by any means, and it's got enough action and comedy to keep people entertained. It simply wasn't up to the expectations I'd laid out, and I actually wonder whether people who come into the movie not having seen the first film or read the comics might enjoy it more.
Kick-Ass 2 gets a C+.