Cards Promote Top Prospect Wong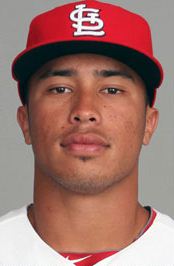 Hoping to shore up the middle infield for the stretch run, the Cardinals have announced that they will be promoting second baseman Kolten Wong from Memphis and optioning outfield Adron Chambers back to Memphis.
The Cardinals' first-round pick in 2011, Wong was selected primarily on the strength of his bat, slashing .378/.492/.560 his final year. Wong, 22, was a second baseman at the University of Hawaii and the minors, and it's expected he'll do the same in the majors.
This year, at Memphis, he's slashed .303/.369/.466 with 10 home runs while playing alongside college teammate Greg Garcia. Just as importantly, while Kolten doesn't possess Billy Hamilton-like speed, he has stolen 20 bases this year while being caught just once.
Garcia's got a compact swing that tends to produce line drives. He won't overly impress with power, but he's shown the ability to knock one out occasionally. He's provided solid defense at second base as well. While he may never contend for a Gold Glove, scouts have insisted that his defense is perfectly adequate for the major league level.
Wong's future with the organization has become somewhat murky thanks to the incredible season Matt Carpenter's having. While he had been projected as the second baseman of the future, Carpenter has quickly emerged as one of the top second basemen in the majors, and he's still just 27.  It's likely this move will be intended to spell Matt Carpenter occasionally at second while providing another solid left-handed bat off the bench, so it's doubtful he's going to start a whole lot. [Edit] It's now being speculated that Carpenter will slide to third base, where he spent his college career as well as most of his minor league career, and David Freese (who's been admittedly underwhelming this year) will be increasingly benched the remainder of the season.
The Cardinals were hoping that when the rosters expanded, top hitting prospect Oscar Taveras would be available, but it was announced earlier that he will be undergoing season ending surgery on his ankle. This also makes Wong eligible for the post-season roster, in case the Cardinals want his bat ready off the bench. He adds another viable left-handed option (in addition to Matt Adams), but this still leaves a shortage of potent right-handed bats on the bench.
At any rate, congratulations, Kolten. We look forward to seeing you in the Cardinals uniform.
Thanks to Mike Heithaus for the tip.