'Me and Orson Welles' Domestic Trailer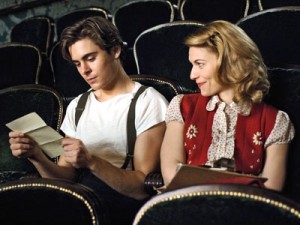 Finally, a domestic trailer for Me and Orson Welles.  This, by the way, if you aren't keeping track is the make or break movie for High School Musical star Zac Efron. The material isn't so far above him where he seems to be desperately trying to escape his past, but mature enough that you might see him in a slightly different light. You might pass him off as another teen star, but he has good on screen charisma.  I'm hoping this film sees a return to form for director Richard Linklater, who at one time seemed one of the more promising directors in Hollywood. I think only time will tell. This trailer does grab me enough that I am feeling a bit of excitement for its release.
Synopsis:
In a whirlwind week in 1937 in New York City, a young aspiring actor named Richard is thrown into the middle of Orson Welles Mercury Theatre Company on the eve of the opening of Welles historic staging of Shakespeare's Julius Caesar. During this week he will find romance with a worldly older woman, becomes immersed in a creative experience few are afforded and learn the downside of crossing the imperious, brilliant Welles. Richard is about to grow up fast.
Running Time: 1 hr. 49 min.
Release Date: November 25th, 2009 (limited)
MPAA Rating: PG-13 for sexual references and smoking.
Starring: Zac Efron, Ben Chaplin, Christian McKay, Claire Danes, Kelly Reilly
Directed by: Richard Linklater
Produced by: Steve Christian, John Sloss, Steve Norris