CBS Gives Full Season Orders to 'The Good Wife' and 'NCIS: Los Angeles'
It seems that this years fall TV season is off to a bang with some quick renewals of CBS's 'The Good Wife' and 'NCIS: Los Angeles'. As both shows are produced in house, the chance of them not getting picked up for full season orders was slim to begin with. 'The Good Wife' continues to hold viewers well, and it has received a good amount of critical acclaim as well. 'NCIS: Los Angeles' is the highest rated new program of the year, so none of this comes as a big surprise.
From Variety.com:
---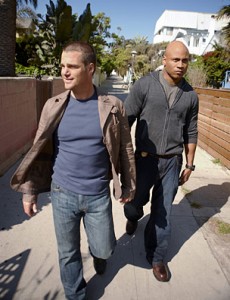 More than 17 million "NCIS: Los Angeles" fans can't be wrong.
CBS has given full-season pickups to the "NCIS" spinoff and to its Tuesday-night companion, "The Good Wife." Both dramas have performed well for the Eye after three airings on Tuesdays. Both hail from CBS Television Studios.
"NCIS: Los Angeles" is not only the No. 1 new skein of the season to date, with an average of 17.5 million viewers, it's also the second most-watched series in primetime behind its skedmate "NCIS."
Drama, from exec producers Shane Brennan and R. Scott Gemmill, ranks among the top 15 in adults 18-49 (4.1 rating/11 share) and is No. 2 among new skeins in the demo. (Fox's "Family Guy" spinoff "The Cleveland Show" takes the frosh 18-49 crown.)
"Good Wife" has held up well behind "NCIS: L.A." in the 10 p.m. slot where "The Mentalist" blossomed for CBS last season. The Julianna Margulies starrer ranks No. 2 among new skeins in viewers, with an average of 13.7 million; it's averaging a 3.0/8 in adults 18-49. Show's exec produced by Robert King, Michelle King, Dee Johnson, Ridley Scott, Tony Scott, Brooke Kennedy and David Zucker.
Quick renewals of "NCIS: Los Angeles" and "Good Wife" were expected given their perfs. Among the other frosh skeins that are no-brainers for renewals are ABC laffers "Modern Family" and "Cougar Town" and drama "FlashForward," but there's no official word yet from the Alphabet.
---
What are the shows you want to see picked up? What shows do you think are likely to get canceled? Let us know in the comments!