Assassin's Creed 2 – Trailer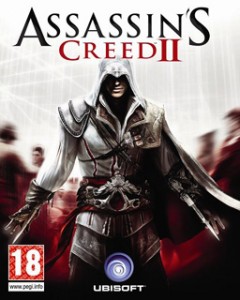 My first outing with the original Assassin's Creed, was disappointing. There were so many promises made, and it just didn't live up to the hype. So, I quickly discarded it, and gave up. I didn't play for long, and that was my mistake. On a lazy day I decided to give it another whirl, and boy was I surprised. I found the game to be exciting to play, and the storyline engaging. I loved running parkour style across rooftops. The 'leaps of faith' were incredible as well. When the story ended I couldn't help but feel disappointment that I got no closure to the story. I can't really blame the developers, it has me psyched to continue the story.
This time you will be traveling through Desmond Miles to one of his ancestors again, although this time it is not Altair, but another ancestor named Ezio. Prepare to jump through the streets of 15th century Venice. All new weapons and skills will be unlocked. Leonardo DaVinci is being recreated for the game as one of Ezio's allies. You will be able to soar through the city on one of DaVinci's gliders. I for one look forward to seeing more of this world through the 'animus'.
Assassin's Creed II is scheduled for an early first quarter 2010 release date for PC and a November 17th, 2009 release date for PS3 and Xbox360.
Watch the Trailer
Awesome In-game Video
Watch the Assassin's Creed 2 Game Walkthrough