Help Make 'Paranormal Activity' a Nation Wide Release!
So far I've heard nothing but great things about this movie. The amount of hype surrounding it is incredible. So help reach 1,000,000 so we can get this movie nationwide, and more people can get a chance to see it.
---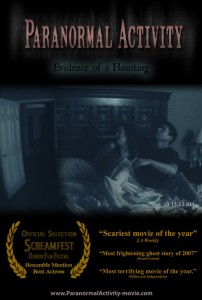 Experience for yourself a movie that Peter Travers of ROLLING STONE calls "A potent frightfest that will fry your nerves and creep you out" and Owen Glieberman of ENTERTAINMENT WEEKLY says "Is freaky and terrifying"
PARANORMAL ACTIVITY has been selling out midnight screenings across the country and receiving rave reviews from both fans and critics alike. The movie follows a young, middle class couple who has moved into a typical suburban "starter" tract house as they become increasingly disturbed by a presence that may or may not be somehow demonic but is certainly most active in the middle of the night. Especially when they sleep. Or try to.
Paramount Pictures is thrilled by the growing fan demand and sold-out shows for PARANORMAL ACTIVITY across the country and is dedicated to bringing the film to YOU! Once we reach 1 MILLION demands, we will release the film nationwide in every city, big or small that demands it.
See Eventful site for full details. In addition, two lucky fans will be selected from the list of many demanding the film to receive a VIP screening of PARANORMAL ACTIVITY in their home town with the film's director/writer/producer Oren Peli. For full details, see Official Rules. Every demand counts in releasing PARANORMAL ACTIVITY nationwide.
PARANORMAL ACTIVITY not playing in your area? DEMAND IT! Bring it to your city by reaching the 1 MILLION demands mark.
http://www.eventful.com/ParanormalActivity
For a list of theaters playing PARANORMAL ACTIVITY visit the official site at http://www.ParanormalMovie.com
---