Marlon Wayans to star as Richard Pryor in Biopic?
That is the word on the street I guess. Originally Eddie Murphy was attached, but I think Wayans might actually be the better choice. Murphy as one of the highest grossing film actors of all time would be hard to disassociate from Richard Pryor in a film like this. I'm still not sure I like Marlon Wayans either, but he seems a better overall choice than Murphy.
From Entertainment Weekly:
---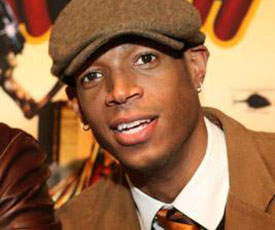 Funny man Marlon Wayans is in advanced discussions to play one of comedy's most iconic figures in the biopic Richard Pryor: Is it Something I Said for Adam Sandler's Happy Madison Prods. and Sony Pictures. The project has been written and will be directed by Bill Condon (Dreamgirls). Eddie Murphy was originally attached to star in the project, but he dropped out over conflicts with Paramount Pictures, which was previously on board to finance the film.
While Wayans is primarily known for his comedic roles in Wayans Bros.' movies such as Dance Flick and White Chicks, he received critical acclaim for his dramatic turn in 1999's Requiem for a Dream. Sources tell EW.com that Wayans fought for the role, blowing the producers away with a 13- min screen test where he "transforms into Pryor." The movie depicts Pryor's controversial brand of comedy and his battle with drugs and is currently budgeted at $20 million. Chris Rock, Pryor's widow Jennifer Lee Pryor and Mark Gordon are also lined up to produce. Producers are still working out the terms of Wayans' deal, and other major aspects of the overall project have not been finalized. Sony did not respond to requests for comment.
---
Wayans is one of those actors I feel has way more range than they let on. His role in Requiem for a Dream blew me away. I had no idea he could be in a film without chewing on the scenery up until that point. I wish he would make more movies like that. His Wayans Bros.' films have niche and they are very good for a paycheck, but mix it up with something great every once in a while. I'd really like to see the screen test to see how well he transforms in to Pryor.