Marvel Confirms Chris Evans is Captain America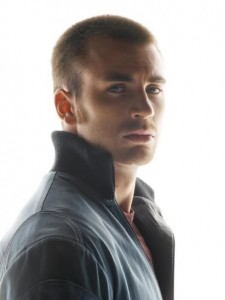 Yesterday it was speculation, and today it has confirmation. (Read our article about the Chris Evans' rumor yesterday.) Chris Evans has been offered, and has accepted the role of Captain America in the Marvel Studios production The First Avenger: Captain America.
The Joe Johnston comic book flick based on the comic book character of the same name, has finally added a face to go with the name. Evans will be joining Hugo Weaving (Matrix, V For Vendetta), who will be playing the evil villain Red Skull in the film.  The deal ties Evans into a three film deal, the first of which will come out next summer on July 22, 2011.  In addition to the three films he will also have a starring role in the Avengers film.  Most likely Evans will have cameo appearances as Steve Rogers/Captain America in other films as well.
I'm glad the speculation is finally over. I'm just ready to get used to the choice they made.  He's definitely not my top choice, but I think he might end up surprising me. I think at this point I'm more worried about the director attached to the project than I am the stars.  The best comic book films are the ones with good directors attached to them, and Johnston is not what I would call a good director.
What do you think? Do you think this film will  be good? Does it have a good director and stars? Let us know in the comments!