"Let Me In" Viral Marketing Campaign Continues; Rubix Cube, Now and Laters, and Romeo and Juliet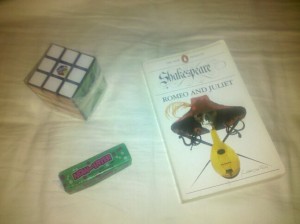 After being sent a bloody funnel in a police evidence bag, and a postcard sent in Morse code, it was nice to get some stuff I can use from the people behind Let Me In. This time they gave me an old beatup copy of William Shakespeare's Romeo and Juliet, a package of watermelon Now or Laters, and a Rubik's Cube. Not to shabby right? But what do these have to do with a vampire movie?
William Shakespeare's Romeo and Juliet – Star of Let Me In, Chloe Moretz, once described the film as "it's sort of like "Romeo and Juliet" with vampires."
Watermelon Now and Laters – Besides being a tasty treat I hadn't enjoyed in years, Now and Laters is the character Owen's favorite candy. There has already been a scene screened where he offers a piece to Moretz's character with less than satisfying results.
Rubik's Cube – Anyone who has seen Let the Right One In probably remembers a scene where the two characters play with a Rubik's cube. Well, Let Me In uses the iconic toy in one of its scenes as well.
You have to remember that Let Me In is set during the 1980s, and both Rubik's Cubes and Now and Laters were both very popular during the decade. I have a feeling this is the end of the viral materials I will be receiving for the film, but it was refreshing to get something from the film that didn't give me a shock at first.
What do you think? Will you be seeing Let Me In when it hits theaters?