"Shrek the Musical" Turns Fans Into Believers at the Fox Theatre in St. Louis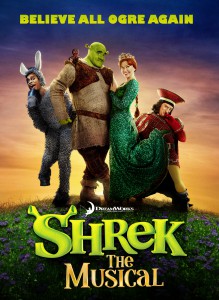 Based on the 1990 novel, as well as the 2001 Dreamworks animated picture of the same name, "Shrek the Musical" is sure to make any fan of the beloved franchise 'a believer.'
Following many of the same beats from the first film, we are introduced to Shrek – an ogre who lives in a desolate swamp that he calls home. What differs is that we are introduced to his parents, and shown how young Shrek came to live in the swamp. The same goes for Fiona, a princess that is born into a lifestyle that calls for her to be trapped in a tower until being rescued by her true love.
Problems start for Shrek (Eric Petersen) when fairy-tale creatures start showing up in his swamp unexpectedly. He soon learns that it was Lord Farquaad (David F.M. Vaughn) who has exiled them from his kingdom of Duloc. In an attempt to get his swamp back to himself, he decides to travels to Duloc and confront Farquaad. Along the way he rescues a talking Donkey from some guards, and gains a friend to accompany him along the journey.
The entire cast of "Shrek the Musical" was chosen perfectly for the show. Eric Petersen does a great job embodying the character, which appears larger than life on stage. His chemistry with Donkey, played by an exceptionally energetic Alan Mingo Jr., works well throughout. Holly Ann Butler played Princess Fiona, who is every bit of a princess that has been waiting her entire life to be rescued. She fits the role perfectly, and the result is exactly what you would picture. I will have to say that the role that really steals the show every time he appears on-stage is that of Lord Farquaad. Played exuberantly by David F.M. Vaughn, it would be surprising to find a person in the crowd without a smile on their face during his performance.
It is certainly hard enough to transform something from paper to the stage. Yet, even more challenging is taking a beloved animated feature and making it work in live theater. But "Shrek the Musical" does just that, without so much as fans of the franchise batting an eyelash. The costumes and sets are exceptional, and really make you feel like you are being transported into this fairy-tale world. Of course the most stage-time goes to Shrek, which truly captures the look and feel of the animated character. The make-up, which takes about two and a half hours to apply before each show, is extraordinary. Equally impressive are the sets. As the characters travel throughout the imaginative scenery, impressive backgrounds go through flawless transitions that almost make you feel like you are in an animated world. The show also features one of the most impressive puppets that I have ever seen in a live show – the dragon. Controlled by four puppeteers, it is truly a sight to see.
The supporting cast of "Shrek the Musical" is comprised mainly of fairy-tale characters. Amongst the characters who all do an exceptional job are Pinocchio (Blakely Slaybaugh), whose make-up and costume make him look incredibly like a wooden boy, The Big Bad Wolf (Jason W. Shuffler), The Three Bears, and Gingy (Aymee Garcia). Gingy, the gingerbread man who steals many scenes in the movie, makes a seamless transition to the stage. Credit goes to Garcia, who at times puppeteers the talking cookie while playing another character herself, and does a great job.
For fans of the beloved films, "Shrek the Musical" is easily accessible and makes for a great night out for the entire family. The actors are perfect for their roles, and really bring the characters we love to life. The show is for all ages, with jokes that the young ones will laugh at – while still maintaining humor that parents can appreciate. If you like the movies, you are sure to have even more fun watching Shrek and company come to life!
"Shrek The Musical" is playing from September 11 to 26 at the Fabulous Fox Theatre in St. Louis! For more information and to purchase tickets, visit fabulousfox.com or Metrotix.