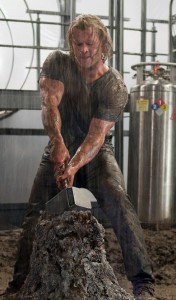 Here we have the first footage from next year's summer opener, Thor. The footage was screened this year at San Diego Comic Con, and has now leaked onto the internet. The quality isn't the greatest, but it much better than most leaked trailers tend to be. (A lot of them look as if they were taken on cell phones.) Most likely, since this seems to be going virally, Marvel will have no choice but to release a better quality trailer soon. Now on to my impressions…
Even after the footage I'm still not sold on the film. Thor has always been one of those superheroes that I never really seemed to get into, so it is going to take a little bit more to draw me in. I was pleased to see that the costumes look much better on film, than they do in the still images released for the production. I was especially pleased to see how good of a fit Hemsworth seems to be in the role.  For as long as this trailer is though, I still can't really grasp what they are trying to accomplish. Everything looks pretty standard, and there really isn't too much to get excited about, at least when you compare it to trailers of other big upcoming releases. What do you think? Let us know in the comments!
Synopsis:
Thor, a powerful but arrogant warrior, is sent down to Earth has punishment for reigniting a reckless war. But after a dangerous villain from his world sends the darkest forces of Asgard to invade Earth, the hammer-wielding Thor will learn what it takes to be a true hero in order to save mankind.
Starring: Chris Hemsworth, Anthony Hopkins, Natalie Portman, Tom Hiddleston, Ray Stevenson
Directed by: Kenneth Branagh
Produced by: Stan Lee, Louis D Esposito, Ari Arad
Release Date: May 20th, 2011 (wide)
[hdplay id=91 width=595 height=375]