'KICK-ASS' Lives Up To Name, But Falls Short At Box Office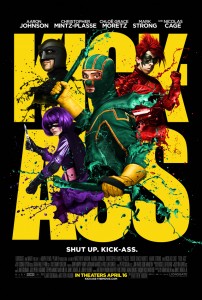 The moment many movie buffs and comic book fans alike have been waiting for finally came true this weekend.  "KICK-ASS," based on the comic book by Mark Millar, hit the big screen Friday after receiving a warm reception from virtually every screening and festival it showed at.  Unfortunately the hype wasn't quite enough, and numbers fell lower than expected at the box office.
KICK-ASS opened at an estimated $19.75 million over the weekend, according to Box Office Mojo, falling just short of the number one spot held by "How To Train Your Dragon."  The Paramount / Dreamworks animated feature brought in an estimated $20 million during it's fourth week in theaters.
I was able to catch the movie over the weekend, and I have to say that it lived up to every single bit of the hype.  If you haven't seen it yet, you need to make sure you check it out this week.  The one huge thing that will help it out during it's second week in theaters is the extremely positive word of mouth that it will receive.  I wouldn't be surprised if KICK-ASS earned another $20 million or more next weekend.
To read our reviews of KICK-ASS, click here.