Kick-Ass Finds a Distributor
After it's great reception at San Diego's comic con this year it is no surprise that Kick-Ass has found it's distributor with Lionsgate Pictures.
From Variety.com
---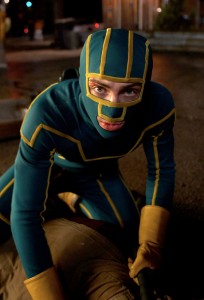 Lionsgate has grabbed domestic rights to Matthew Vaughn's action-comedy "Kick-Ass."
In a deal that is described as "big," the mini-major has committed to a wide 2010 release.
Pic is based on a comic by Mark Millar and John Romita Jr. about a comic-obsessed teenager who decides to become a real-life superhero despite his lack of any superpowers. Cast includes Nicolas Cage, Aaron Johnson, Chloe Moretz and "Superbad's" Christopher Mintz-Plasse.
U.S. distribs got their first peek at a rough cut of "Kick-Ass" on July 28, a few days after the fanboys at Comic-Con saw clips of the film and gave it their blessing.
Vaughn's Marv Films shingle and Brad Pitt's Plan B produced and privately financed the project.
---
I'm very excited about this project. The only thing I'm worried about is whether Millar will finish the comic before the film. I'd like to be able to finish the story in the medium I started in.  The only other thing I still worry about the project is the involvement of Nicolas Cage. I've probably said it on here before, but I think he makes me despise just about every project he is in. We'll see how it turns out.
Do you think Kick-Ass will have as much success as his other recently adapted story, Wanted did in theaters?