Concert Review – Reel Big Fish at the Pageant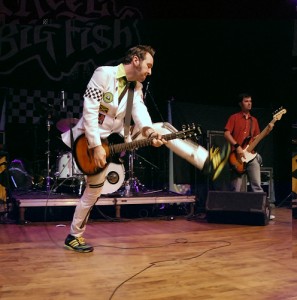 Reel Big Fish has been releasing albums since the early 90s, and still has no problem putting on a great show here in 2009! Their energy and ability to entertain the crowd is unrivaled by many of the entertainers that I have came across in shows of various genres. I had a chance to see Reel Big Fish when they played at the Pageant with the English Beat and the Supervillians, and I was not disappointed.
The first band to come on-stage was the Supervillians, who I had never heard of previously. A friend of mine told me that she loved them, so I thought that I would see if they were as good as she said. Well, by the end of their set, I was pleasantly surprised. The band reminded me of a young Reel Big Fish. Their music was a combination of SKA and punk rock, and included instruments like trumpet and saxophone. They put on a pretty entertaining set. The band split their vocals between two singers – Dom, who looked like he fit the punk rock scene, and Skart – who had massive dreadlocks and sang many of the songs that had more of a Raggae feel. It was fun, and I enjoyed most of their songs.
The next band, headlining as the openers for Reel Big Fish, was the English Beat. It was really fun getting to see the band touring on it's 30th anniversary. They had a huge following at the show, which surprised me in the hours before Reel Big Fish went on stage. As soon as "the Beat" hit the stage, you could tell the long time fans by the way they jumped out of their chairs and immediately started singing along. There were quite a few middle-aged fans in the crowd that you could tell were their for the English Beat, as they quit their dancing and sat for the duration of Reel Big Fish's set. The crowd was very into their performance, and went nuts during some of their popular songs like "Mirror in the Bathroom." Although they were a little too mellow for me, It was a fun time getting to see the band play live.
Next up was the moment that I had been waiting for all night. I have been a huge fan of Reel Big Fish since the 90s, but have never been able to see them live. I will tell you right now that the band not only lived up to my expectations, but they put on one awesome show!
As the band came on stage, the Pageant erupted with cheers and the crowd jumped to it's feet. I could tell that this was the moment that the entire audience had been waiting for, not only for hours, but for weeks leading put to the show. As the band grabbed their instruments, they didn't waste any time (as they usually don't) and started off right into playing "Take On Me." The crowd was ecstatic, as was I. It reminded me just how powerful the music of Reel Big Fish is, and how much fun it makes you have. You just can't help but to want to dance and sing along when the band plays.
Reel Big Fish then went on to play "Everything Sucks," which again had everyone singing along, and having a good time. That was the great thing about the entire show. The majority of the entire set, which was over 1-and-a-half hours long, was comprised of their biggest hits, and songs that everyone knows. So many bands go on tour just to promote their latest album, and they forget why people love them in the first place. Not Reel Big Fish. I left without wishing that they would have played one single song that they left out.
I have to reiterate that these guys put on one hell of a show! Their energy, and the way they dance around the stage for over an hour without seeming to ever take a break, is incredible. You can tell that the lead singer and founding member of Reel Big Fish, Aaron Barrett, really loves to put on a show. From the second he comes out on stage with his big sunglasses and stylin' retro duds, you know he is there to have a good time. And you are right there with him. Throughout the entire show, he is jumping around the stage, dancing and spinning around while playing guitar. He really puts the energy into the performance that makes the show a whole lot of fun. And the rest of the band is right alongside him, making the show fun.
Throughout the night, Reel Big Fish continued to play their most popular songs, mixed in along with some of their lesser known hits and songs from their latest album – "Fame, Fortune, and Fornication." We got to see the band play "She's Got a Girlfriend Now," "Beer," "Brown Eyed Girl," and the list goes on and on. They ended the show with three songs after their encore, the last of which was "Sell Out." I don't think there was a single person who wasn't on their feet and singing along for this last one.
Overall, we saw an awesome show that was full of great bands, none of which disappointed. It was fun seeing the Supervillians for the first time, and now I want to check out more of their music. The English Beat put on a great performance, and I was happy to be able to catch a glimpse of the band after 30 years of performances and music. And last, but certainly not least, the Reel Big Fish made my night. The band did anything but "sell out" as the song says, by playing all of the hits that the crowd came to see. That is why their fans will always be fans, and why we will keep coming back to see them as often as they tour. I know I will now.