Say it isn't so… Wayans Brothers Developing a Sequel to "White Chicks"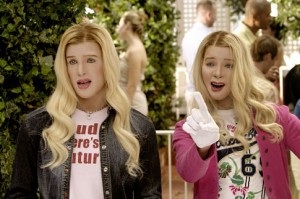 In some of the craziest news that I have heard in a long time, THR reports that the Wayans Brothers are working with Sony to create a sequel to their 2004 film "White Chicks." For those of you who have seen the movie, you heard it right, there is actually a sequel to the movie in the works!
If you haven't seen "White Chicks," here is what you have been "missing" —
Despite their best efforts, agents Marcus and Kevin Copeland have worked their way down to the bottom of the FBI food chain. Their most recent bust was a failure and they are hanging onto their jobs by a thread. When a plot to kidnap spoiled socialite sisters, Brittany and Tiffany Wilson. is uncovered, the big case is given to Marcus and Kevin's rivals Vincent Gomez and Jake Harper. To add to their humiliation, Marcus and Kevin are handed a thankless menial task–to escort the Gucci-clad spoiled brats safely from the airport to their hotel in the Hamptons. Even they can't get that one wrong. Right? When Tiffany's pampered pooch, Baby causes a traffic mishap, a fight ensues and the two women are disfigured–well, if you call a fat lip and a cut nose disfigurement, which to these looks-obsessed socialites it certainly is. The heiresses refuse to show their less than perfect faces at the important society weekend fearing they could lose the highly coveted cover of Hamptons Magazine to their archrivals Heather and Megan Vangergeld. Faced with the prospect of unemployment, Kevin hatches a plan: He and Marcus will go undercover as the demanding divas and, in the process, try to snare the kidnappers and restore their reputations. With the real Wilson girls safely ensconced in a luxury New York hotel, Marcus and Kevin assume their identities and spring their most unlikely sister act on the unsuspecting creme de la creme of Hamptons society.
Yes, I reiterate again – there is a sequel in the works for this movie! Keenen Ivory Wayans, who directed the first movie, will return to the director's chair. As horrible as the first movie was to me, and as crazy as it sounds that there will be a sequel, I guess the numbers don't lie. "White Chicks" was made with a budget of only $37 million dollars, according to Box Office Mojo, and grossed over $113 million dollars internationally.
I can't wait to see a trailer for this one. I am sure that it will be spectacular…