District 9 Has Impressive Weekend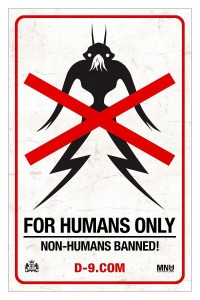 Weekend Box Office showed an improvement over last year in the same time frame jumping almost 15% led by the impressive weekend from the sci-fi thriller District 9.
District 9 which flew into theaters this weekend did sizeable business for a low budget sci-fi thriller. The film had an estimated gross of $37 million over the weekend in 3,049  to rule the box office this weekend. District 9 which tells the story of an alien race who comes to rest over Johannesburg, South Africa. The aliens in the ship are put in a sectioned off area called District 9 which over the past twenty years has rapidly decayed into a slum. Tensions between the alien race and humans are at an all time high. The government hires a private company, MNU, to move the aliens to a new camp away from human civilization. Caught in the middle of it all is Wikus van der Merwe, who unfortunately becomes front and center of all the tensions between the two races.
There is a lot to be excited over this win for District 9. It chalks up another win for Peter Jackson (who has Lovely Bones coming out later this year), and marks the first film of what looks to be a great new talent, Neill Blomkamp. The film has been well received by critics. This and its impressive viral marketing campaign might be the source of its success over the weekend.
Coming in at number two for the weekend was last week's champion, G.I. Joe, which fell 59% to $22.5 million to continue it's impressive run. It's total now stands at an estimated $98.8 million which means it will probably cross the $100 million dollar mark on Monday. The film is having a pretty impressive run considering the critical and fan response it has gotten. It just goes to show that sometimes mindless fun does pay off, and a franchise can really work in a film's favor.
Two chick flicks came in at the next two spots.  Other newcomer The Time Traveler's Wife opened to $19.2 million for an impressive start in the romantic comedy genre. The film was very much counter programming to the male oriented pictures District 9 and G.I. Joe. Holdover Julie and Julia declined a respectable 38% bringing in $12.4 million for the weekend.
The weekend didn't bode as well for The Goods: Live Hard, Sell Hard and Bandslam. Both of them terribly underperformed with an estimated $5.2 million and $2.3 million respectively. August often sees a lot of releases that are pushed out to capitalize on the end of summer and that last grab for business. It seems that this weekend was no different and some succeeded and others did not.