Interview: Dana White, UFC President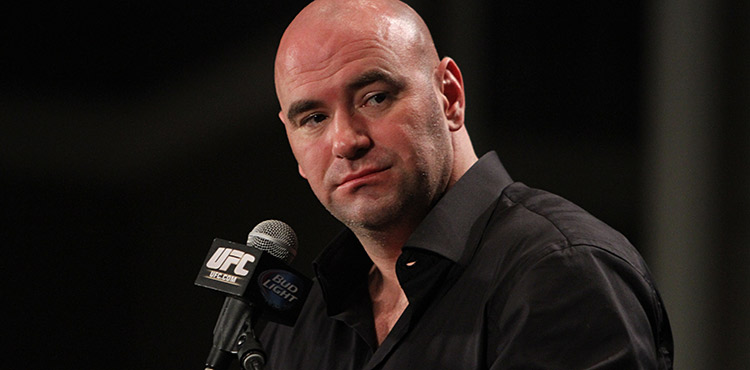 Dana White is without a doubt one of the most popular faces in all of combat sports. The UFC President was in St. Louis on Sunday night, as his company made its long-awaited debut with UFC Fight Night. While the card had a couple mishaps with fights having to be cancelled due to fighter injuries, it was a great night of MMA overall and White had nothing but praises for the city and the 10,052 in attendance at Scottrade Center.
"The crowd was awesome in St. Louis," White said. "This place is so great. The whole crowd was screaming for me to bring a pay per view to St. Louis. We will absolutely be back here and bring a pay per view back here. This place was awesome and I loved it."
As far as when will the pay per view possibly take place, White wasn't quite sure, but it could be later in the year.
"When we leave and get further on in the year and start planning new dates, definitely St. Louis will be in the books," he said. "One of the great things that I loved about this city is that it was a rough week for us with the card changes. Not only did it not affect the ticket sales, but they went up. They didn't go down, there were no returns. This city wanted the UFC and they were an awesome crowd tonight and I will reciprocate with a pay per view and we will be back."
While the fights were great, the moment that stood out for the thousands in attendance was the return of UFC Hall of Famer Matt Hughes. Hughes was nearly killed in June of 2017, after his truck was struck by a train. Hughes, who has ties to the St. Louis area, once owning a gym in Granite City, now lives in Illinois. Thousands of fight fans rose to their feet cheering, some with tears in their eyes as Hughes made the walk to the octagon. He hugged his wife and shook hands with White before taking a seat near the octagon.
"It was super emotional for me," White said. "Matt Hughes is a guy, much like Chuck Lidell, who has been to my house on holidays. My kids hang with his kids. We kind of grew up together in this sport. Tonight was a big night. We had been keeping each other in the loop after this horrible tragedy had happened. It was awesome, very cool."
White also spoke about Vitor Belfort, who was supposed to fight Uriah Hall, who had to drop out after issues making weight. For Belfort, it was supposed to be his retirement fight.
"I haven't talked to Vitor," White said. "We offered him a fight in St. Louis and in Boston and he turned both down. He wants to fight Bisping in London. That's the fight he wants. I'm not opposed to it."
White had some harsh words for Hall after the fighter failed to make weight.
"I have a very long relationship with Uriah. I like him very much personally, but the guys at UFCPI said he doesn't take it seriously. He does his own thing. A week before the fight he was in L.A. hanging out in a club. So, it's not good. If you don't cut weight the right way, if you don't do what you're supposed to do, this is what happens."
Hall's failing to make weight is just another example of a growing problem in the UFC of fighters struggling to make weight. When asked if there should be any policy changes, White offered his take.
"Do what you're supposed to do," he said. "There's ways to cut weight safely and properly. You need to start doing that. That's why we're encouraging everyone to come to the UFC Performance Institute. These guys who go down there and do things the right way, cut weight safely. The guys who don't listen, this is what happens. Much like the Kelvin Gatellum's and Johnny Hendricks out there, if you can't make the weight then fight at a higher weight division."
White also spoke about the term "money fight," which seems to be thrown around the sport a lot lately.
"The only reason that there's money fights is because of the rankings," White said. "Guys talk about money fights. It's the stupidest thing I've ever heard. You know what's a money fight? Any fight with Conor McGregor is a money fight. Any fight with Rhonda Rousey is a money fight. Build yourself into a star and you won't be talking about money fights. It's getting to the point where Conor McGregor has exploded and become so huge that this whole money fight thing came about. And even if you're not fighting Conor, you want to be on his card. Become a star yourself."
White was also asked about current women's featherweight champ, Cris Cyborg and the possibility of a fight against bantamweight champ Amanda Nunes.
"That's the fight I want," he said. "We're finally in the position where we can give Cyborg big fights, big fights with big name people, money fights."
White was also responsible for putting together the McGregor and Floyd Mayweather boxing match. He said it ranks near the top of his career accomplishments.
"Financially, it's at the top," he said. "People wanted to see it, we made it, it's the biggest thing ever. It's the biggest boxing event ever and one of the guys wasn't a boxer. I don't want to do it again. I want Conor to start training again and come back and defend his title."
White also said he'd prefer boxers and MMA fighters stick to their own profession.
"I've been talking about getting into boxing lately, but I want to see boxers fight boxers and mixed martial artists fight mixed martial artists," he said.
When asked about the prospects of a McGregor return, White seemed optimistic.
"As long as Conor wants to fight still, Conor and I always get it done," White said. "Conor wants to do things on his time and when he wants to do it and that's fine. I respect the kid so much for what he has accomplished. But, if he's not ready to go when it's time, I think he wants to come back in September. That will be two years and that's not fair to the rest of the guys."
White said if that was the case then McGregor would be stripped of the title to allow other fighters to have a shot at it.
"If that happens, then when Connor's ready to fight and he comes back, he'll get first crack at the title," he said.