Interview: Tyron Woodley UFC Welterweight Champion, St. Louis Native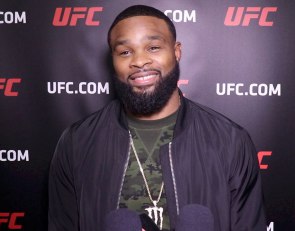 If you were in attendance at the UFC's first appearance in St. Louis on Sunday night, you know just how much St. Louis loves their champion, Tyron Woodley.
Woodley, who grew up in Ferguson and wrestled for Mizzou has stayed true to his down-home roots despite becoming one of the most recognizable champions in the UFC today.
The champ has fought in St. Louis before when Strikeforce was still around. The company was eventually gobbled up by the UFC. But, when asked if he would have liked to have been fighting on the card, his answer was a bit surprising.
"As far as the end of my career possibly," Woodley said. "Fighting at home you have a lot of ticket requests, lots of long-lost cousins coming out of the woodwork and a lot of pressure to perform in front of your city. I actually enjoy fighting in Las Vegas. That's my favorite place to fight. I'm happy to be here and I'm enjoying it. St. Louis is a great combat sports city and a great city in general. For the UFC to come here is a big deal for me and my city. I'm really excited about that."
Woodley is three weeks out of a shoulder operation which he appears to be recovering from nicely.
"I feel awesome," he said. "(The doctor) told me I should be punching someone in the face in two months. I'm excited about it. Right now I just feel really confident in my recovery. I'm actually going to get both shoulders stem-celled so I have some double-hitters."
Once Woodley is able to get back into the octagon, his opponent remains a big question mark. There are several welterweight competitors who have staked their claim at a title shot, but the champion scoffs at most of them.
"Maybe a fight that's more substantial for my legacy will present itself," Woodley said. "Fall back and take a seat. I'm not giving this up. One by one everyone will get a chance. I really want to fight Georges St. Pierre. Until I beat him, I can't claim to be the number one welterweight in the world. Call it a money fight, or call it whatever the hell you want to. If he's still fighting, that's going to be my fight."
Outside of St. Louis, Woodley sometimes plays the villain, as some fans dislike him for some reason, but the champ said he has taken on all challengers and will continue to do that.
"It's just great to walk into the building," he said. "I don't do it for the fame or the glory, I really do it to be legendary. Sometimes people don't see what you're doing until after you retire and I'm okay with that. When you go back after I retire, I think some of my fights are actually going to be studied. At this current moment in our sport what's a good fight? I'm just happy to be in those fights. I'm fighting the number one guys and they aren't going to be easily taken down. I have 11 finishes in 18 fights, sometimes people forget that. So, if you do that math, I'm a finisher."
Woodley's division is widely considered the most competitive in the UFC.
"The welterweight division is the most stacked in UFC, I truly believe that," he said. "I'm the only champion who is fighting number one contenders. I fought four world title fights in 12 months and outside of a couple guys, I'm the only one fighting clear-cut number one contenders."
Woodley also went on record to say he would take on GSP at any weight.
"I don't care, I will fight at any weight," he said. "It can be a catchweight, I don't care."
The UFC Champion also spoke of his days at Mizzou.
"We had this thing called the Tiger-Style mentality," he said. "We were going to outwork everybody, out condition everybody and do what it takes. We had a grinding style of wrestling. We bought into the system and the mentality and went out with a chip on our shoulder. We expected to win. I take that same mentality into the octagon. I wasn't surprised I knocked out Robbie Lawler. Those things come from preparation."
Being from Feguson, Woodley has been one of the few athletes in St. Louis who has taken a stand to try to better his community and the city as a whole, following the civil unrest in the area. Many view the fighter as a role model.
"I just want to be a real model," he said. "I make mistakes and haven't always done the right thing, but sometimes making those mistakes can teach you a life lesson. You don't have to do what I did because now you have someone to tell you not to act up in class, don't be in a gang. I'm blessed to be where I'm at. I'm blessed to be working and doing well. I got my hand in so many different things."
When not in the octagon, Woodley can be found on TMZ, UFC TV, running his own production company, working on an upcoming short film and a bunch of other endeavors.
"Fighting is not my only game," he said. "While this windows open, I'm going to run through as many things as possible."