'I Can Do Bad' Does Good on Opening Weekend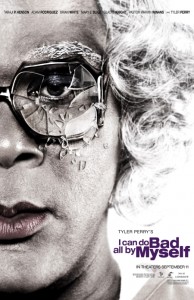 Tyler Perry continued his string of success with his latest film, I Can Do Bad All By Myself over the weekend. The estimated gross of $24 million this weekend makes the film his third largest debut ever, behind Madea Goes to Jail and Madea's Family Reunion which opened to $41 million and $30 million respectively. The audience was 80% African American and over 75% were over 25.
Coming in second this week was the animated feature 9, grossing just under $11 million this weekend to bring it's total up to $15.2 million since Wednesday. While the number isn't that uncommon for this time of year, it ranks well below the release of similar picture, Coraline, earlier this year. Coraline had an opening weekend of over $16 million, but those numbers might be boosted by the fact that Coraline had many locations in 3d. Many box office analysts predicted a bigger outcome for the animated film with names like Tim Burton and Timur Bekmambetov attached.
The two other wide release films of the weekend Whiteout and Sorority Row both did lackluster business with $5.1 and $5.3 million dollars a piece. Part of the low gross might be due to the fact that these two pictures were vying for the same audience. Both films were aimed at teenagers, and both of them had marketing campaigns that touted the suspense of their respective pictures. It might not have been good business to put two suspense/horror films up against each other in such a "dead" time in the market. Also, add in Final Destination, and they split the weekend pretty evenly among the three pictures, all grossing in the $5 million range.
Among holdovers Quentin Taratino's Inglorious Basterds came in third this weekend with $6.5 million bringing the WWII revisionist film up to $104.3, which all but cements the fact that this will be Tarantino's biggest film yet. It should pass his previous top grosser, Pulp Fiction, sometime later in the week.
TW
LW
Title (click to view)
Studio
Weekend Gross
% Change
Theater Count / Change
Average
Total Gross
Budget*
Week #

1

N

Tyler Perry's I Can Do Bad All By Myself
LGF
$24,030,000

–

2,255

–

$10,656

$24,030,000

–

1

2

N

9
Focus
$10,856,000

–

1,661

–

$6,536

$15,264,000

–

1

3

2

Inglourious Basterds
Wein.
$6,546,000

-43.7%

3,215

-143

$2,036

$104,309,000

$70

4

4

3

All About Steve
Fox
$5,800,000

-48.4%

2,265

+14

$2,561

$21,812,000

–

2

5

1

The Final Destination
WB (NL)
$5,500,000

-55.5%

2,732

-389

$2,013

$58,258,000

$40

3

6

N

Sorority Row
Sum.
$5,268,000

–

2,665

–

$1,977

$5,268,000

–

1

7

N

Whiteout
WB
$5,100,000

–

2,745

–

$1,858

$5,100,000

–

1

8

5

District 9
TriS
$3,600,000

-49.1%

2,560

-579

$1,406

$108,517,000

$30

5

9

7

Julie & Julia
Sony
$3,300,000

-38.0%

2,342

-186

$1,409

$85,360,000

$40

6

10

4

Gamer
LGF
$3,150,000

-65.6%

2,502

–

$1,259

$16,120,000

–

2

11

8

G.I. Joe: The Rise of Cobra
Par.
$2,525,000

-51.2%

2,120

-726

$1,191

$144,270,000

$175

6

12

10

The Time Traveler's Wife
WB (NL)
$2,325,000

-46.3%

2,228

-575

$1,044

$59,054,000

$39

5