Disney and Jason Segel Are Making THE CHEAPEST MUPPET MOVIE EVER!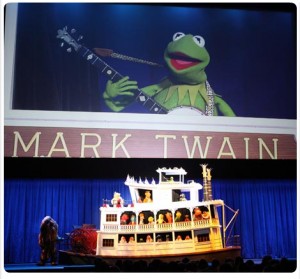 As many of you might remember, in early 2008 Jason Segel became attached to the next Muppet project. This came after his performance in "Forgetting Sarah Marshall," and the Dracula play that he puts on with puppets that were actually custom-made by Jim Henson's puppeteers. Segel decided to pitch an idea for a new Muppets movie, and he was hired on the spot to write the script.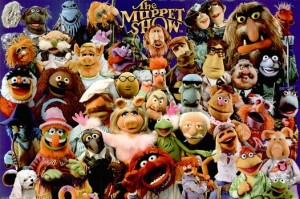 With Disney's D23 going on, some more information has been released about the latest Muppets movie. According to comingsoon.net, the Muppets performed a song and dance number at D23, and afterward Dick Cook (Disney Chairman) officially announced that the title will be "The Cheapest Muppet Movie Ever Made."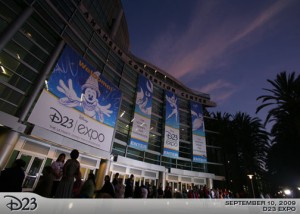 Sources say that the title suggests that the story will be based on Jim Henson's 1985 project that was never made. In that story, Gonzo directs a big budget Hollywood movie, but spends all of the money on the opening credits. This leads to the rest of the movie being shot ridiculously in a make-shift manor. It sounds like a pretty funny and entertaining premise for a new Muppet movie. It has not been confirmed whether or not the new film will use that outline, but it seems likely.
About Disney's D23 Expo
Disney's D23 Expo Comes to Southern California in September 2009!
The ultimate Disney fan experience will connect guests with The Walt Disney Company in exciting new ways, from September 10-13, 2009 at the Anaheim Convention Center just across the street from Disneyland! Guests will enjoy exhibits, screenings, presentations and interactive experiences from every part of The Walt Disney Company. Click here to access the D23 Expo microsite, where you can find the latest information about the ultimate Disney fan experience! Highlights of the D23 Expo will include:
Keynote speakers: Some of The Walt Disney Company's most dynamic executives will be on hand to break news, including Disney President and CEO Bob Iger, Walt Disney Studios Chairman Dick Cook, Walt Disney Parks and Resorts Chairman Jay Rasulo and John Lasseter, chief creative director, Walt Disney and Pixar Animation Studios!
World Premiere Screenings: Get an early look at some of the Company's latest projects.
Performances, Celebrities and a Fashion Show: Musical performances from chart-topping Disney talent will put some bounce in your step! Meanwhile, talent from Walt Disney Pictures films, ABC, Disney Channel, ESPN and more will be on hand for meet-and-greets. Need a little more fun? Disney Couture will debut its new line at a fabulous fashion show.
50 and Fabulous Film Festival: Check out three classic Disney films that all turn 50 this year, including Darby O'Gill and the Little People, The Shaggy Dog and Sleeping Beauty.
Readings, Signing, and Q&As: Check out surprising gallery events, author appearances and signings and even a beautiful Disney Home to walk through.
Film and TV Sneak Peeks: Check out exclusive clips from the latest films from Walt Disney Studios and watch some of ABC's new fall offerings.
Eye-Popping Exhibits: The incredible experiences, exhibits and presentations at the Expo are another way D23 will connect fans to the timeless stories, characters and amazing worlds that we create here at Disney. Guests entering the main showroom floor of the recently renovated Convention Center will discover exciting pavilions from every part of The Walt Disney Company. Each will offer unique immersive experiences the whole family can enjoy. Parks and Resorts, Walt Disney Records, Disney Consumer Products, ABC, ESPN and Walt Disney Imagineering — to name a few — will all be featured. There will be surprising gallery events, author appearances and signings and even a beautiful Disney Home to walk through. Radio Disney will rock the Expo every day, and you can expect favorite Disney talent to make appearances throughout the event. (We hear there may even be a wedding!)
Disney Dream Store: From pins and mouse ears to DVDs and music, there will be must haves for everyone at the largest Disney shopping experience ever created. Even more special, there will be limited edition collectibles on sale exclusively for D23 members.
Fan Forum: Disney's biggest fans are invited to participate in all the action. There will be an entire convention hall for everyone to show off their collections and sell their Disney treasures.