A Christmas Carol – HD Trailer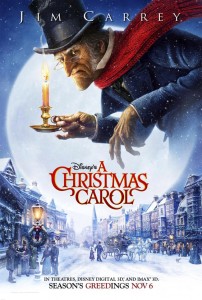 Well, with this latest trailer of Robert Zemekis's take on the popular Dickens's novel, A Christmas Carol, my hopes came crashing down.  As a bit of a literature buff I have been waiting for a solid adaptation of my favorite Christmas story ever. What better story of redemption is there than that of Ebenezer Scrooge? The story has been retold countless times, sometimes better than not.  I think my personal favorite so far is A Muppet's Christmas Carol, but maybe that is because I'm a bit of a kid at heart. I remember thinking a few years back how the time was ripe for a live action version, and then I heard one was going to be done using motion capture and other techniques. Although, I felt the story was a bit wrong for the techniques used in films like The Polar Express and Beowulf, I still had hope. Then I heard the news that Jim Carrey would be playing Scrooge. Well, my hopes fell a bit, but I hoped he could reign in his goofiness and bring Scrooge to life.
Well, then I saw the trailer…First of all, they show every major plot point in the trailer. Sure, it might be one of the most recognized stories of all times, but that doesn't mean everyone has read it or seen a version of it. How about keeping some intrigue to the story? Although, my biggest problem with the trailer was also my biggest fear, Jim Carrey. I have admired Carrey in a few roles, and despised him in many. When there is a good director to reign him in, they use his unique talent set in the right ways. Apparently Zemekis has gone a bit overboard and cares more about the animation than the characters and stories that follow it. Scrooge looks like a joke in this, not a bitter old man. Part of me still can't help hoping that this might turn out in to a graceful adaption of the famous story.
Well, check out the trailer, let me know if my thoughts are baseless.