Hank Azaria is Gargamel in "Smurfs" Movie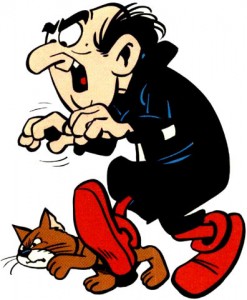 The evil Gargamel has been cast for the new Smurfs film. There is a bit of a twist though, he won't be animated. According to Neil Patrick Harris' Twitter account, "Hank Azaria will be PLAYING Gargamel for the Smurfs film, not just providing a voice. He'll be live action. Perfect casting, can't wait!"
In addition to casting Azaria, the studio has cast Glee's Jayma Mays as the pregnant wife of Harris's character.  Their character's lives are turned upside down once they meet the Smurfs.
Mays and Azaria join the cast which includes, Jonathan Winters as Papa Smurf, Katy Perry as Smurfette, Alan Cumming as Brainy Smurf, and George Lopez and Grouchy Smurf.
This seems to have a solid little cast brewing behind it. I'm a man who is always down for a good kid's movie. Hopefully, it will be quite a bit better than the last Alvin and the Chipmunks film, and caters to more than just one audience.