"Borat" aka Sacha Baron Cohen Marries "Wedding Crasher" Isla Fisher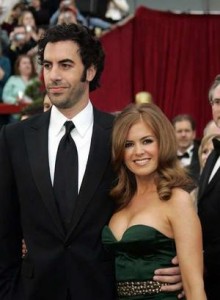 After being together for almost eight years Sacha Baron Cohen and Isla Fisher have finally tied the knot in a small ceremony in Paris.
"We did it – we're married! It was the absolute best day of my life and in so many beautiful moments I missed you all so much," said Fisher in an email to friends. "I thought of you as everything was happening, but Sacha and I wanted no fuss – just us!"
Cohen and Fisher had a daughter, Olive, in 2007, and started dating almost eight years ago. Not too shabby for a Hollywood power couple.
Just goes to show you, if you are a funny and talented guy, you have the chance to marry someone as beautiful as Isla Fisher.