Microsoft 2.0: How Microsoft Plans to Stay Relevant in the Post-Gates Era – Book Review
Microsoft 2.0: How Microsoft Plans to Stay Relevant in the Post-Gates Era
by Mary Jo Foley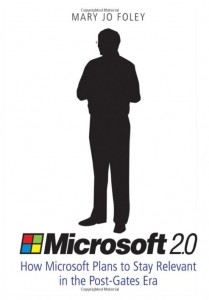 Mary Jo definitely doesn't buy into the myth that cloud-computing will bulldoze Microsoft into obsolescence and irrelevance within the next decade – that's not to say that they won't have many challenging obstacles ahead of them.  With the resources, both in terms stock-piles of cash and talented people, Microsoft will not roll-over and play dead as a new wave of technological innovation evolves to become a dominant force in the Post-Gates era.  I don't think the majority of companies/end-users will throw away the money they've already invested in a fat-client environment in favor of re-purchasing a fast-booting dumb terminal with all of their intellectual property floating out in the ether of "The Cloud as a Platform".  This book review is a great example, I am currently disconnected from the internet, sitting at a remote location, typing away with my local copy of Word 2007 maximized on my Windows 7 desktop (It could even be a Mac OSX laptop running Word for Macs, as long as it's a fat-client with all my documents stored locally and an extra copy stored on my thumb drive for redundancy and portability).  The main point is that I am not totally dependent on the Net or the Cloud.  I can get my work accomplished, save it, then re-connect with the rest of the world at my leisure and send the final copy to my publisher without being tethered to a County Library or Panera Bread location with free Wi-Fi.
So, I think Microsoft's strategy of becoming a Software Plus Services (S+S) provider is a safer bet than being a strictly Software as a Service (SaaS) player.  Most of the people I know enjoy the flexibility of being able work with or without connectivity.  On a quick tangent, many investment brokers have been recommending the purchase of SaaS stocks because 'they will be the dominant players in the next decade' and we can make some quick Bubble 2.0 money; fortunately or unfortunately, I am a long-term investor.
Some readers may not be aware that Ray Ozzie, Chief Software Architect for Microsoft, is already preparing for cloud-computing with Windows Live, Bing and MSN/Xbox Live offerings.  If the purchase of Yahoo! is successful, Microsoft will own a hefty portion of the future cloud; not quite the size of Google's share of the cloud in the form of Google Apps and document storage, but still a formidable player.  Additionally, my spider-senses are tingling and I get a strong feeling that Microsoft's Next Server offering ('Windows Server 8', perhaps?) will allow small-to-medium sized businesses to easily create a series of interconnected "Mini-Clouds".   So, in essence, Microsoft will own some of the Foundation and associated Infrastructure (the fabric) of "The Cloud" in the form of multiple small clouds strung together in disparate remote clusters of Windows Servers running Platform Services that support various Applications and Solutions.
Seduced by Success (2007)
On a non-technical note, some of the biggest challenge(s) for Microsoft's current CEO, Steve Ballmer will consist of resisting the urge to rest on past accomplishments/successes and reining in Microsoft company culture of Combating Torpor, Greed and Jealousy between department(s) and special project groups. This is best exemplified by one of Mary Jo's quotes in one of her latest ZDNet articles:
I'm also surprised that anyone familiar with Microsoft's history is shocked that one Microsoft team tried to kill off another team's project because it was viewed as internal competition. It was common knowledge that when Bill Gates was still CEO at Microsoft, and for years afterwards, Microsoft's brass routinely pitted one team against another inside the company and let "the best" team win. Just one of many examples: Remember the Office vs. NetDocs contest? NetDocs — which could have become Microsoft's equivalent to Google Docs if it had launched back in 2001 — lost.
Many Microsoft watchers see Microsoft as:
Failing to acknowledge that business models/markets are changing.
Being reluctant to move to a new business model.
Hoping all these newfangled ways of doing business will just fail and disappear.
All of these are fallacies.
Microsoft is well aware that the tech market is mutating, and ever more rapidly as the future smacks our tech leaders square in the face.   Oftentimes, industry watchers equate "new and innovative business models" with anything that Google/Apple/open-source vendors are doing.   But, Microsoft leaders openly admit to experimenting with several different business models for its various sources of income/revenue streams.
All-in-all, I think Microsoft's project "Fiji", which is a codename for its latest iteration of the Media Center PCs, will include Microsoft's answer to Apple's GarageBand, as well as support for Microsoft's billion dollar bet on IPTV.   If Microsoft can provide High-Definition Video-Rich content through DSL lines/Coax for about $19.95 per month, I think they will have a viable replacement for our current cable TV offerings.  Xbox Live already offers Netflix on a pay-as-you-go basis.  There are currently 1.6 billion TVs in various households world-wide.  And, Microsoft wants the lion's share of that market because they know that software is the next evolution of television.  Microsoft's prediction is that all television programming will be on-demand, with the exception of some sporting events and late-breaking news – "The Information Super-Highway" that BillG touted as his main focus in 1998.  Of course, they want their embedded operating systems to be in every TV and associated device/set-top box.
The Zune media player is currently being used to receive IPTV in Japan, wirelessly.  I don't think this will go over as well in the US but it shows that Microsoft is willing to adapt and customize it offerings to the preferences of a particular geographical region.  Obviously, both the iPod and iPhone have first-mover advantages over the Zune and Windows Mobile 7, but Microsoft will devote tons of resources in order to play catch-up in those arenas.
In short, I believe Microsoft is a multi-faceted player with many irons in the fire and not just a single operating system provider for IBM-compatible devices.  OEMs like Compaq, Gateway, HP and Dell will continue to push as many copies of whatever-version-of-Windows, in order to secure their preferred partner rate for each copy of Windows and Office that come pre-loaded on every machine.  I believe this model alone would survive through the next decade, not including the other product lines in their enormous and diversified stable of software and services.  I have the utmost faith that we will see the emergence of a Microsoft 3.0.  I believe in the future of computing and I believe MicroSofties feel the same way.
This book is a quick read if you're interested in the next phase of computing evolution.  Mary Jo mostly covers the future of Microsoft because most of us tech geeks (her core audience) already know the basic history of Microsoft which is far less interesting than the present state or future of this monolithic yet somewhat agile company.  I would definitely recommend it to my fellow techies or my non-technically inclined friends who suffers from insomnia!
Don't be surprised to be surprised?, as the author succinctly put it.
I'll leave you with one last Joe Panettieri blog entry mentioned in Chapter 6:
I have written extensively about Microsoft's (NasdaqGS: MSFT) problems. But last week, I got a stunning reminder about the company's power. It takes Microsoft only 10 hours of business to exceed Red Hat's entire quarterly profit. Skeptical? Check out the math, and nine other facts about Microsoft's most recent earnings report.
Microsoft last week announced quarterly revenue of $14.4 billion and net income of $4.93 billion. In other words, Microsoft's daily net income is about $55 million. That's $55 million in pure profit every 24 hours. Do some quick math and you'll learn it takes Microsoft only about…
10 hours or so (yes, hours!) to exceed Red Hat's (NYSE: RHT – News) quarterly net income of $20.5 million.
Four days to exceed Research In Motion's (NasdaqGS: RIMM) quarterly net income of $187.9 million.
Four days to exceed Starbucks' (NasdaqGS: SBUX) quarterly net income of $205 million.
One week to exceed Nike's (NYSE: NKE – News) quarterly net income of $350.8 million.
Two weeks to exceed McDonalds' (NYSE: MCD – News) quarterly net income of $762 million.
Two weeks to exceed Apple's (NasdaqGS: AAPL) quarterly net income of $770 million.
18 days to exceed Google's (NasdaqGS: GOOG) quarterly net income of $1 billion.
23 days to exceed Coca-Cola's (NYSE: KO – News) quarterly net income of $1.26 billion.
Five weeks to exceed IBM's (NYSE: IBM – News) quarterly net income of $1.85 billion.
10 weeks to exceed Wal-Mart's (NYSE: WMT – News) quarterly net income of $3.9 billion.
For a 'dead' company, Microsoft's profits certainly look lively!
---
About the Author:
Mary Jo Foley has covered the tech industry for 20 years for a variety of publications, including ZDNet, eWeek and Baseline. She has kept close tabs on Microsoft strategy, products and technologies for the past 10 years. In the late 1990s, she penned the award-winning "At The Evil Empire" column for ZDNet, and more recently the Microsoft Watch blog for Ziff Davis.
Her All About Microsoft blog (http://blogs.zdnet.com/microsoft/) is among the top business blogs on the Web, and her perspective is valued throughout the tech community.
About the Reviewer:
Bradley Maue is a freelance contributor for ReviewSTL.com and occasional day-dreaming futurist