Greenberg Starring Ben Stiller – HD Trailer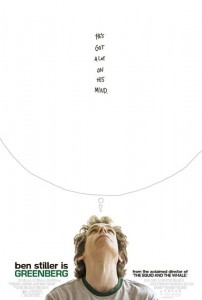 Finally! A Ben Stiller film that doesn't consist of him doing prat falls and looking like a monkey man. Stiller has a special place in my heart from his short lived Ben Stiller Show on MTV, and his first film Reality Bites. I'm even a fan of some of generic comedy (Zoolander, Meet the Parents, etc.), but lately it seems the guy has gotten too complacent with playing the same quirky character. It is like he took his character from Something About Mary and put it on a loop. I know the guy is a good performer, but maybe paychecks got in the way of taking a few roles with risks.
It seems like it all might change. Noah Baumbach who is fast becoming an award season favorite. His previous directing credits include The Squid and The Whale and Margot at the Wedding, not to mention the fact that he is credited with work on Fantastic Mr. Fox's screenplay. Match this guys style and wit with Stiller's comedic talent, and you get an entertaining and possibly moving film. It does look like that manufactured indie work we've been seeing a lot of lately. You know, the loner talking about nothing, with indie music laid over the background, and a tentative love interest. I'm hoping it will be a move in the right direction for Stiller's career.
Synopsis:
Ben Stiller falls for his brother's assistant (Greta Gerwig) while suffering from a midlife crisis in Noah Baumbach's (The Squid and the Whale) latest comedy drama. Scott Rudin produces the Focus Features production, with Rhys Ifans, Brie Larson, and Juno Temple heading up the rest of the cast. ~ Jeremy Wheeler, All Movie Guide
Cast: Ben Stiller, Rhys Ifans, Jennifer Jason Leigh, Greta Gerwig
Director: Noah Baumbach
Release Date: January 1, 2010