'The Last Station' – HD Trailer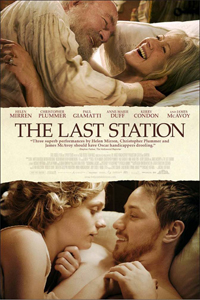 This is another one of those films most of the public won't see until January, but will be playing in limited theaters end of December to qualify for awards season. From the cast alone you can tell it was a film made to be bait to these types of show. Make it based on a best selling book about the author of one of the most famous authors of all time, Leo Tolstoy, and you have an award season shoe in. I'm looking forward to seeing it, only because I'm a sucker for period pieces, and I read War and Peace for the first time this year.
Synopsis:
In 1910, famed novelist Leo Tolstoy (Christopher Plummer) and his wife Sofya (Helen Mirren) vehemently disagree over the rights to Tolstoy's literary legacy. Sofya believes her husband should bequeath them to her upon his death, while Tolstoy's chief disciple, Chertkov (Paul Giamatti), has nearly convinced the writer to sign the rights over to the Russian people. To this end, Chertkov inserts a spy into Tolstoy's household, who promptly falls for one of the novelist's daughters.
Cast: Christopher Plummer, Helen Mirren, James McAvoy, Paul Giamatti, Anne-Marie Duff
Director: Michael Hoffman
Genres: Period Film, Biopic [feature], Drama
Release Date: January 15, 2010