New 'Youth in Revolt' Trailer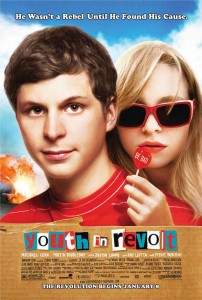 Michael Cera has his next two roles to show everyone that he is capable of playing more than an insecure teenage style character. The first is his turn in this film, Youth in Revolt, where he has an alter ego which will give him a broader palette to show his comedic range. The other role is his upcoming turn in the comic book turned movie, Scott Pilgrim, which he will be playing the title character whose emotions are much sturdier than the characters Cera is famous for playing.
There is no denying that Cera is funny, but I know some people who have gotten tired of his schtick (not me I'm genetically inclined to like everything an Arrested Development cast member does).  The biggest thing he'll have to do is show people more than the one dimension of comedy he has been doing since his debut on TV. What he does, he does perfectly, but that brand of comedy only works as long as he looks young.
All in all, this film looks like it is shaping up in to a great one. I can't wait to see just how it turns out. The cast looks solid. It's appeal might be mainly to hipsters, and might miss traditional audiences, but Cera's (and now Galafianakis too) got enough of a following that it could make it a hit in its time period.
Synopsis:
As a teenage fan of Albert Camus and Jean-Luc Godard, Nick Twisp (Michael Cera) is most definitely out of his element when his mother and her boyfriend move the family to a trailer park. When a pretty neighbor named Sheeni (Portia Doubleday) plays records by French crooners, it's love at first sight for frustrated virgin Nick. Upon learning that Sheeni is already dating someone, Nick launches a hilarious quest to find his way into Sheeni's heart, and bed.
Cast: Michael Cera, Portia Doubleday, Jean Smart, Steve Buscemi, Zach Galifianakis, Ray Liotta
Director: Miguel Arteta
Genres: Teen Movie, Comedy
Release Date: Opens January 8, 2010