Great Comic Book Series Without Superheroes
I encounter them every day, people who don't realize that the comic/graphic novel is a growing art form not meant for just superheroes wearing spandex. Some of the best stories I have ever read have been serialized in comic book form.  Respect for the form is growing, but not quick enough. Here are a few series to get you into the great thing that is the graphic novel.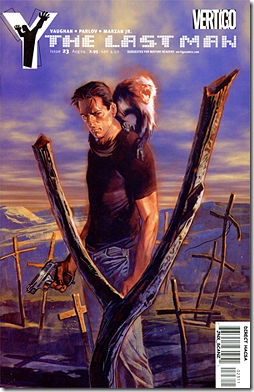 Y The Last Man
Alas, poor Yorick!  This story starts out simple enough, all male species are simultaneously wiped out except for a young man named Yorrick, who while very intelligent is kind of a slacker. Yorrick is the only male surviving other than the Capuchin monkey he just adopted, Ampersand. So, what do you do when everything with a Y chromosome is wiped out? Well, you go search for your lost love. Yorrick is accompanied by the mysterious Agent 355, a deadly but great protector, and Dr. Allison Mann, a geneticist who might hold the key to the entire reason why the male population was wiped out.
Why is it good? Brian K. Vaughn (Lost)  crafted the story and the world it belongs in almost perfectly. Imagine if half the population (including most animals) just up and died, how bad would things get? Well, things would be very messed up for a little while. Government would most likely collapse and law and order would be a difficult thing. Luckily, women aren't as violent as men, but someone has to fill those traditional roles. Everything is believable about the series, even if it's psuedo-science can see a little far fetched at times. The characters are engaging and you will be concerned about their very survival for the whole series. I devoured this series issue by issue and there haven't been many comics that kept me entertained as well as this.
Last year the series ended, and it has been optioned for a movie by D. J. Caruso (Disturbia). Rumors have been that Shia LeBeouf and Zachery Levi have both been considered for the role of Yorrick. Both seem solid choices for the character. Luckily it seems the studio plans to go for it in more than one movie because of the length of the source material. Read it before it gets made into a film!
Transmetropolitan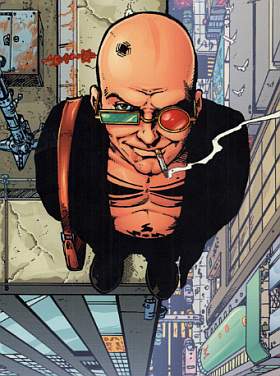 This is a story that has only gotten more relevant with our political landscape. Transmetropolitan follows Spider Jerusalem, a gonzo journalist who has escaped from the clutches of "The City", a futuristic New York style city, only to be pulled back in because of a contract with a book deal. He goes reluctantly, but immediately finds himself a story. Spider is a bit of a celebrity and while very vile and crude, he tells the stories honestly and opens the peoples eyes. Transmetropolitan mainly follows his fight against two consecutive Presidents. With the aid of his publisher and his "filthy" assistants he tries to take down the status quo.
Why is it good? Warren Ellis has a gift for making you disgusted at something but still get his message across. Spider is so vile that it is comedic, you will be truly shocked by some of his antics in the series. He's a very violent and petty person. His character is ultimately relatable. He is a person who is enraged by the abuse of power and corruption he sees around him. He knows how to manipulate the press as well as those who fight against him. There is no way you can read this and not think of the current political climate. It will make you question every single politician and their motives, instead of their image. It isn't a series for everyone, but I think it is something everyone should at least give a try. There will be issues that will make you want to stand up and applaud Ellis.
Darrick Robertson's art is solid, but a little busy at times. It translates well to the grimy future Ellis has painted for us in the story. The City always looks unclean and not cared for. It's a very honest look at the road we might be heading down.
There have been talks of a film adaptation. Patrick Stewart was once very interested in the project, it never was fully realized. Out of the books I am listing here, this would be by far the hardest to adapt. A lot of what Spider does would offend many of the movie going public. If there was ever a faithful adaptation it will most likely be attacked for its characters rather than it's message.