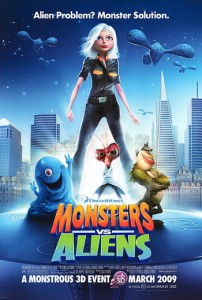 "Monsters vs. Aliens" opened in theaters nationwide yesterday, as the latest and greatest breakthrough in 3D technology in movies to date.  But the reaction that the film has received from critics has been luke-warm.  According to Roger Ebert, the film's 3D effects are more distracting and annoying than anything, and he feels that the 3D implementation is nothing more than a gimmick to charge more for tickets.
On one hand, parents are going to have to shell out a lot of their hard earned dough for this one – especially because of the 3D technology and glasses. Lets say on average a movie costs 3 more dollars per ticket if it has the 3D technology, and parents pay $10.50 while their kids pay $7.50.  That is an average of 9 dollars per ticket.  Add in 3 dollars for 3D, and you get 12 dollars per ticket. Apply these numbers to the amount of money that 'Hannah Montana 3D' made, and the box office took in an extra $16,320,445 because of the Ebert proclaimed "gimmick."
Now, I would consider myself an optimist, and I like to give people the benefit of the doubt most of the time.  This may not be a GOOD thing, but that is just the way it is.  So on the other side of the argument, I feel that change is a GOOD thing, and I am open to seeing how the 3D effects might be able to change the movie industry some day.  Granted they might not be ready just quite yet – but I would like to keep an open mind.  Maybe because of the length of time Ebert has been reviewing movies, and the age gap between Grandpa Ebert and I – what we find appealing or not may b different.  That is just the way it is.  We don't agree on movies a lot of the time anyway.
Something else that I noticed about the movie is the huge amount of voice talent that the film contains.  Now, I know… many other films have used big name actors for voices in the past (Shrek: Mike Meyers, Eddie Murphy, Cameron Diaz and Over the Hedge: Steve Carrell, Bruce Willis, Nick Nolte).  But this movie contains a ton of VERY current actors.   It seems like the movie must be paying a fortune for the talents of Reese Witherspoon, Seth Rogen, Hugh Laurie, Will Arnett, Kiefer Sutherland, Rainn Wilson, Stephen Colbert, Paul Rudd, Amy Poehler, Renée Zellweger, John Krasinski – that is a huge list!  So are they paying the big bucks to draw in movie goers to pay the extra bucks for the 3D film?  We will have to see.
In conclusion, I am excited to see "Monsters vs. Aliens: 3D" on the big screen, and I will be sure to let everyone know my opinion – at least  so that we can add a little it of  variety into the demographic range of reviewers.  I hope that the 3D technology has really progressed, and I am looking forward to seeing how it evolves in the fututre.  I watched the HBO behind the scenes footage of the movie, and the directors and crew were having A LOT of fun making the film.  It did not look like they had nothing else but dollar signs in their eyes – but we will see.
Have fun at the movies, and be sure to let me know what you think of the film.