George Lopez is "Speedy Gonzales"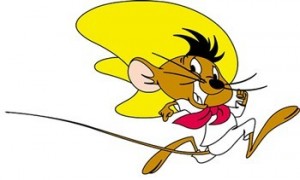 Up until recently Speedy Gonzales cartoons weren't aired because of their portrayal of ethnic stereotypes. Not really of Speedy, but because of his supporting cast which features Mexican mice who are slow and lazy. In 1999, Cartoon Network stopped airing the cartoons. It wasn't until this year that the network started airing the famous Looney Toons character again. So, now that the character is out in the open again New Line is preparing to make him into a film with George Lopez doing the voice.
The film will be a live action CG hybrid film similar to how Alvin and the Chipmunks is filmed. "Speedy's going to be a misunderstood boy who comes from a family that works in a very meticulous setting, and he's a little too fast for what they do," said George Lopez Presents' Anne Lopez. "He makes a mess of that. So he has to go out in the world to find what he's good at."
Garfield writers Joel Cohen and Alec Sokolow will be writing the script. Producing the film will be Anne Lopez and Lynette Ramirez for George Lopez presents, along with New Line's Jerry Weintraub, Tracy Ryerson, and Jill Arthur.
"The Fastest Mouse in all Mexico" is finally coming back to the screen, and I couldn't be happier. I think our society is becoming overly political correct. I think when you make an issue out of something like a cartoon character, you are really just exposing your own bias. I grew up watching characters like this, and I don't think it affected me in any way other than I thought Speedy Gonzales was just a cool mouse.
Unfortunately, as happy as I am about Speedy coming back, I can't help but think it will stink. I'm not sure I've ever found George Lopez funny, he seems kind of like an older Carlos Mencia to me, both do race jokes that are neither clever nor funny. Not to mention that the writers of this are the people who wrote the scripts for the awful Garfield films. Oh well, as long as Cartoon Network continues to air old Speedy Gonzales cartoons….