Matthew Goode Up For Bilbo Baggins in "Hobbit" Movie?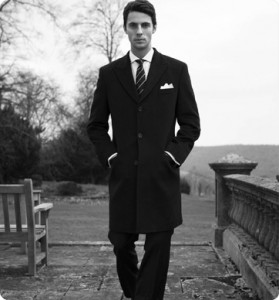 Matthew Goode had a pretty good year last year with starring roles in Watchmen and A Single Man. Unfortunately, his year got off to a bit of a slow start with the romantic comedy Leap Year co-starring Amy Adams. Although, this bit of casting news might put his year back on track.  Goode appears to be one of the people up for the part of Bilbo Baggins in the film adaptation of the popular novel by J.R.R Tolkien, The Hobbit.
Goode gave an interview with The Daily Telegraph where he states that he had an audition with Hobbit director Guillermo Del Toro. He told the Telegraph that the part would be impossible to turn down if offered, even though he'd rather stay in his home country (a reason he took the "turgid" Leap Year).  Although, in the interview he admits to being a bit big for the role.  At almost 6'2 the special effects wizards of Weta would have their hands full. No doubt that it could be done.
Now, this is in no ways a conformation that he is going to be offered this role, but it is nice to see some insight to who they are using in the auditioning process of the film. I really liked Goode's candor in the article. He talks about how Leap Year was an awful film, and even confirms that people might end up thinking it one of the worst of 2010. I can respect his reasons for taking it. He was really good in Tom Ford's A Single Man, and I hope he continues to take more roles like that. Needless to say a role like this could propel his career much like Lord of the Rings did for Viggo Mortensen.