First Look: "The Lone Ranger" Starring Johnny Depp and Armie Hammer
"The Lone Ranger" has been through a lot in recent years.  The project has been in the works as far back as March 2002.  Then it sat in development hell until Jerry Bruckheimer set it up at Disney in 2007.  I would have figured the project would be put on the fast track given how much money Bruckheimer has brought in for Disney.  In 2008, the writing team behind the "Pirates of the Caribbean" franchise, Ted Elliot and Todd Rossio, were officially hired to work on the script.  Not long after, Johnny Depp was announced as playing Tonto.  This sounds like potentially billions of dollars in the pockets of Disney already.
Then things started to slow a bit.  After rumors of possible directors, Bruckheimer stated that a director had not been chosen and that the lead would not be cast until the director was signed on.  Also, shooting would not begin until Depp's "Dark Shadows" finished shooting.  In 2010, Gore Verbinski was hired to direct with Armie Hammer in the lead role.  I was very excited about the potential of the project.  I think Armie Hammer is a great actor, though I am skeptical of his choice to star in "Mirror, Mirror", and I also love Depp, even in his bad films ("The Tourist").  Then in August of last year, the project hit another snag.  Not long after "Cowboys and Aliens" underperformed at the box office, Disney put the film on hold indefinitely due to budget concerns.  Fear not Lone Ranger fans.  The film is back on track with a release date of May 31, 2013.  And today we get our first look at Johnny Depp and Armie Hammer in costume.  Check out the photo below.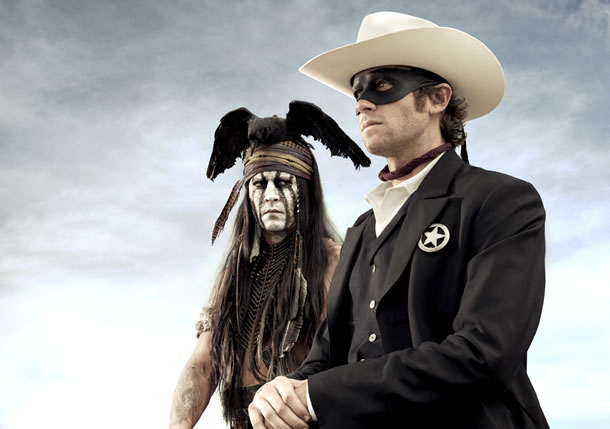 Did anyone really have any doubt that this would be Depp's movie?  Even though he is not the title character, based on this photo alone, I think we can safely assume that he will be the focal.  I think the bird is a tad too much to be honest, but overall I like it.  I just hope that Depp does not go too far.  I was disappointed with Depp and his extreme opposites in "Alice in Wonderland"  (a film that had plenty of other factors working against it).  Yes, he created one of modern film's best characters with Jack Sparrow, but that doesn't mean I needs to go completely crazy and eccentric with this role too.  Obviously, there will be no way of knowing until we start seeing footage so there is no cause for alarm yet.  Aside from Depp, I think Hammer looks good.  There wasn't really too many directions to go with that character and costume.
What do you think of the two in costume?  Let us know in the comments below.