Movie Review: "Friends With Kids" Starring Jennifer Westfeldt, Kristen Wiig, Jon Hamm and Maya Rudolph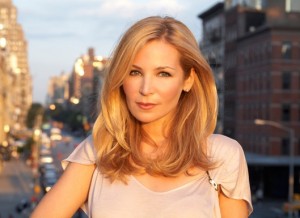 Friends With Kids aims for a very similar tone to the similarly named 2006 film Friends With Money. Both films use an ensemble casts to dissect the everyday problems of upper-middle class white people. While Friends With Money was both poignant and funny, Friends With Kids barely manages to be either.
Kissing Jessica Stein star Jennifer Westfeldt wrote, directed and stars in Friends With Kids. Westfeldt plays a Manhattanite who with her best platonic friend Jason (Parks and Recreation's Adam Scott) decide to have a child together. They surmise that by having a child platonically, they'll get to fufil their dream of having a child while remaining open to dating other people. While the actual premise doesn't make much sense, the film manages to offer some insight into the common pitfalls of being Married With Children.
Friends With Kids is at its best when the comedy is off the cuff and the drama is realistic. At times, Friends With Kids seemed like a steak covered in ketchup. Friends With Kids often feels forced and unnecessarily conventional. The actors employed are talented enough to make the best of a mediocre script, but truly shine only when the Hollywood sheen is removed. Jon Hamm, Kristen Wiig, Maya Rudolph, Chris O' Dowd (The I.T. Crowd and Bridesmaids) and Ed Burns all give strong performances and allow us to see many of these comedic veterans in a more dramatic light.
Unfortunately, the highlights of this film don't keep it from transcending mediocrity. In fact, the film's creator, Jennifer Westfeldt is its weakest link. Perhaps it's me, but not since Hillary Duff's plastic surgery have I been so distracted by someone's physical appearance. In Friends With Kids, Westfeldt looks more like a bad ceramic mold of actress Joan Allen than a real human being. While someone's physical appearance usually isn't enough to alter the entire movie going experience, Friends With Kids makes an exception. Call me old-fashioned, but when the entire premise of a film is built around the sexual tension between its two main leads, there needs to be some general sense of attractiveness.
Accounting for its flaws, Friends With Kids is still worth a watch. It provides an interesting perspective on the more difficult aspects of marriage and monogamous relationships, but ultimately is too eager to tread in well-worn Rom-Com territory.
Worth Your Money
Not Worth Your Money
-Worth Somebody Else's Money-