FRIENDS WITH KIDS Opens March 9! Enter to Win Passes to the St. Louis Advance Screening!
Enter to win a pass good for two!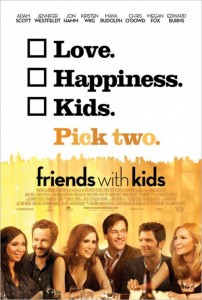 Friends With Kids is a daring and poignant ensemble comedy about a close-knit circle of friends at that moment in life when children arrive and everything changes. The last two singles in the group observe the effect that kids have had on their friends' relationships and wonder if there's a better way. They decide to have a kid together – and date other people. There are big laughs and unexpected emotional truths as this unconventional 'experiment' leads everyone in the group to question the nature of friendship, family and, finally, true love.
Cast: Adam Scott, Jennifer Westfeldt, Jon Hamm, Kristen Wiig, Maya Rudolph, Chris O'Dowd, Megan Fox, Edward Burns
Director: Jennifer Westfeldt
In order to enter the contest, become a fan of ReviewSTL on Facebook and share ReviewSTL.com with all your friends (click the "share" link on the bottom-left side of the page) – telling why you can't wait to see the movie! Then "like" the post to complete your entry. NO PURCHASE NECESSARY. While supplies last. Passes are available on a first-come, first-served basis.
Winners will be chosen at random from all entries. Supplies are limited. Limit one (1) pass per person, passes admit (2) two. Sponsor's employees and their dependants are ineligible. Screening is overbooked to ensure capacity. Please refer to passes for any other possible restrictions. No purchase necessary.
Screening is Thursday, March 8 at Ronnie's 20 Cine (7pm).
Good luck! We hope to see you at the movies!
IN THEATERS MARCH 9