Dragoncon 2017: A Weekend in Review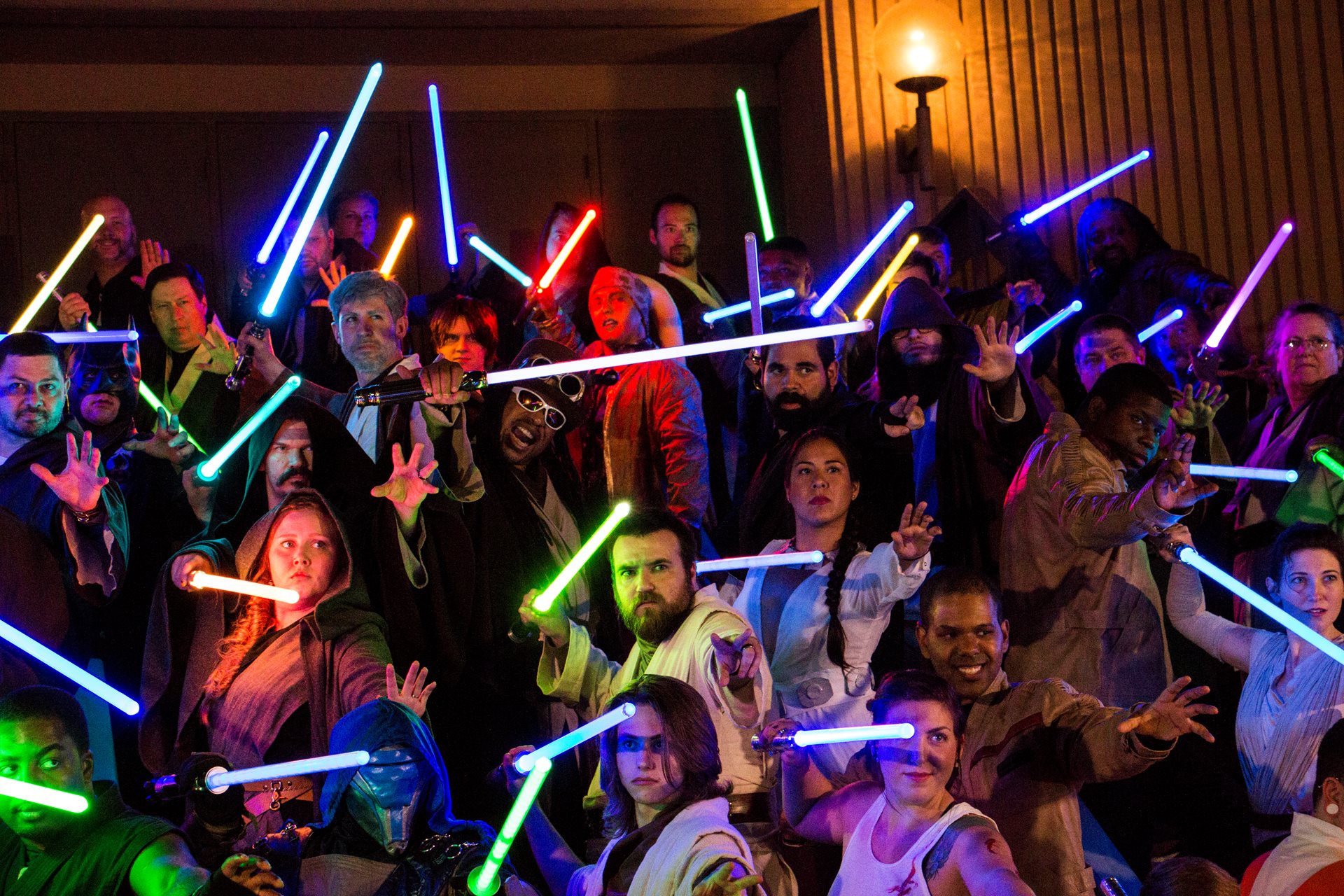 SUNDAY
It was the last full day of the con and I felt like there was so much I still hadn't seen. At least I knew my way around by Sunday, though. The learning curve of navigating Dragoncon without maps is as steep as the hill the hotels are on. I'd discovered the food court was actually right across the street from our hotel. So we were going to be able to get some quick eats on the way to my first task of the day: the Star Wars Costume Contest.
That being said, I tried to sleep in as much as I could before going out for the day. I didn't actually get out of the hotel until we were about ready to get lunch. Justin, James, and I ventured to the food court, this time opting for a cheaper lunch than pay by the pound sushi. This lunch was also much quicker than the day before. The Sunday crowd was light enough that we could even get a table next to some of our NC friends. The sky bridges weren't as congested either, so the walk over to the Marriott afterward was quite brief as well.
I made a stop by the Star Wars fan booths while waiting for the costume contest to begin. There I got to see an awesomely sleek and quite functional speeder bike sported by the Mandalorian Mercenaries. I witnessed it in action Saturday during the parade, but it went by too fast for me to get a decent picture. Also in attendance of course were the Rebel Legion and 501st. Members of each group combined forces to put on a wonderful weekend for all the attending Star Wars fans.
My tripod was set up in the back of the Imperial Ballroom to record the costume contest by the time our friends in the contest showed up. Their impressive armors drew a lot of attention as they rushed to get into line for the stage walk. Those of us not in the contest watched on in awe as these well-crafted costumes graced the ballroom stage. The original characters were all well thought out and the canon characters were spot on! I have to mention the absolutely genius Darth Bender costume that won best mash-up. It was a fantastic idea and the contents of his chest cavity brought laughs to the whole room.
We watched with anticipation as the winners were called. Best group costume went to Hannah and Sarah for their fantasy Kylo Ren and Captain Phasma costumes and best armor went to Diana for Anew Sefet! They and all of the winners had some of the most impressive costumes I've ever seen.
I spoke to them each after the contest briefly, getting interviews for Beyond the Blast Doors. For Terrible Trio, debuting these costumes and winning an award in the same weekend was a great thrill! Diana was so ecstatic to receive not only another award for her original character, but one at such a big event was absolutely amazing. Riding a wave of joy and confidence, all of Terrible Trio and Fire Forged went out for dinner at the legendary Medieval Times. I really wanted to join them. I've wanted to experience Medieval Times since the first time I saw Cable Guy, but I had other plans.
The Fallout group photoshoot I'd been invited to was rapidly approaching. I met Courtney back at my hotel so I could get suited up. We had about an hour to kill before the shoot, so we decided to get as far into the vendor hall as we could before I had to go. Jenn and Sergei accompanied us, with a destination up on the third floor. Since Courtney and I were just looking in general, we followed up to the top. Jenn and Sergei went right for their target, but Courtney and I took our time weaving in and out of each aisle. She and I both found quite a few artists and items that peaked our interests. Probably the most memorable booth was dedicated to a single character. Owly is an adorable little cartoon owl that's always looking for new friends and adventures. The booth was manned by Owly's creator, Andy Runton, and featured all kinds of Owly merchandise and books.
About a half hour before the shoot, I left Courtney to continue shopping and start the four-block trek down to the Hilton. Following the sidewalks made the trip much quicker than wading through the crowds inside to use the sky bridges. I made it to the meeting area to meet up with James, Stormy, and Ted about 15 minutes before the shoot. Stormy was donning Ted's expertly crafted scale mail version of Reptile from Mortal Kombat. The crowd was dotted blue by vault suits, stained in blood by raiders, and packed with plenty of munitions and armor. The turnout for this might have been even better than the Jedi vs Sith shoot on Friday. We all filed up onto the stairs together to fill every step. As we were preparing, a Bacardi promoter wandered up toward the stairs holding a tray of seemingly glowing blue drinks. It looked vaguely enough like Nuka Cola Quantum, so I jumped down to grab a glass. Whenever we were directed to gesture with a weapon, I used my glass of Quantum.
Once the full group photo was finished, we split into smaller categories for additional pictures. I was able to join the photographer side of the floor finally to capture some of the non-vault dweller costumes. I jumped back into the frame as all the vault dwellers were called up for a final shot. This time for the different poses, my weapon was my camera. It was pretty epic to see representatives from a wide range of vaults all over the wasteland. There were also some very impressive eye-catching cosplay pieces like massive power armor suits, intimidating NCR ranger armor, and even a Protectron robot! Both the Fallout and Star Wars group photoshoots at Dragoncon will be some of my most fond memories of the whole weekend.
By the time I got back to the hotel to change out of the vault suit, it had started to get dark. I came to find that Courtney spent the rest of her time at the exhibition hall shopping for me! Every con I go to, I have to get one thing: a Fallout pin to go on my vault dweller's satchel. Courtney spent over an hour looking through vendor after vendor until she found a Fallout pin I didn't already have. She also picked up a couple of frosted shot glasses for me, something I'd been meaning to shop for at just about every con I've been to.
The hunger set in. James, Courtney, and I decided to embark out into the streets to find somewhere for dinner. We first went to a nearby pizzeria. After about 10 minutes of seeing people leave and no one being seated, we decided to move on. We gave the Metro Café Diner another shot since our dinner was cut short on Friday. This time, we were determined to get some of their epic cake.
Our eyes were too big for our stomachs. We left after our meals with no cake and so full that we needed to relax for a couple of hours. James left to join Justin and a few others at a Sunday night party already in full swing while Courtney and I ventured across town to her hotel to retrieve some alcohol and costume items that couldn't go back with her on the plane. We took the opportunity to explore the Grand Hyatt, but weren't able to go far with it being so late in the evening. Once we got back to the convention, we decided to make a run for that damn cake.
Metro Café wasn't nearly as packed this time, at nearly 3:30am. Courtney and I walked away happily with our quarry, a slice of Oreo cake for her and turtle cheesecake for me. Honestly I didn't know mine was cheesecake, but it was outstandingly delicious anyway. Next Dragoncon, I'm going to have to try another kind. After the cake, I secured Courtney a Lyft back to her hotel and retired to my room where half of my party was already out for the night.