Dragoncon 2017: A Weekend in Review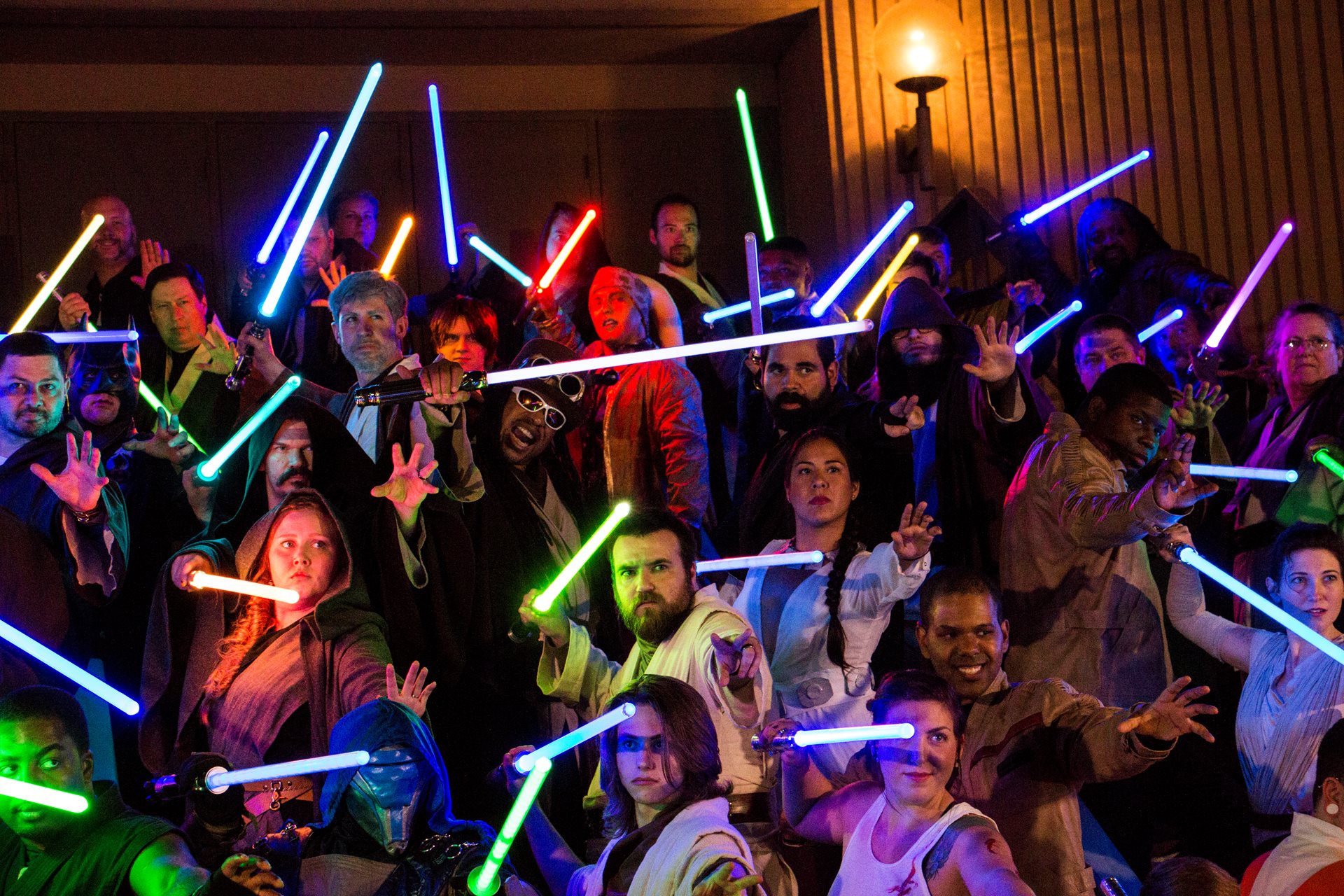 SATURDAY
Saturday started at about 9am as the parade started outside. Just about everyone in our room was moving by 9:30, each getting ready for the long day ahead. I grabbed my camera and ran down to the street to get a few shots of the parade. I was immediately greeted by a massive crowd lining the street, the line about six people thick and several rows behind them walking up and down the sidewalk. As I scanned the scene, I noticed that people were lined up on balconies across the street and even at the walls of the parking garage. Everyone watched with glee and cheered as group after group of cosplayers representing all kinds of fandoms walked down the street to celebrate the gathering of geek. It was a great way to start off the biggest day of Dragoncon.
After the parade ended, we had some time to kill because the street was impossible to cross. I returned to the hotel room and threw on the vault suit to rock for the day. I have really come to enjoy wearing this suit, and having a camera can make sense. Say my vault dweller goes out into the wasteland to take pictures of all the dangerous things the other people in his vault are too scared to go see. I like the idea of a wasteland photographer.
By the time we really got anywhere for the day, we were ready to get lunch. Justin and I decided to meet up with Terrible Trio and Dana and Diana of Fire Forged at the food court in the Peachtree Mall. It was a very convenient location, connected to both the Hyatt and Marriott via sky bridges. It also had quite a lot of options. Some common, some less common, all smelled delicious. Justin and I also came across our NC friends Sarah and Lee, who invited me to the Fallout photoshoot on Sunday. The line for the sushi bar was going quite fast, so we opted for that. Unfortunately the court was too crowded for us to snag a table for seven people, but we were able to find some floor space next door in the Marriott! Everybody at a con eats lunch on the floor sooner or later.
Soon, the remaining members of Fire Forged showed up to round out our STL collection of Overwatch characters. We decided to once again hit the main atrium of the Marriott, where a huge portion of the con attendees and cosplayers were to show off their hard work and passion. This is where I met my first deathclaw out in the wasteland. It was an intimidating sight to be sure, but I think it just may have wanted a hug!
Sporting the impressive Mcree and Zarya cosplays, Hannah and Sarah were approached by the SyFy video crew for an interview about their costumes! These award winning costumes always draw quite a bit of attention. Justin covered the floor collecting footage for his music video while I snapped every shot I could of all the action and amazing interactions between cosplayers. On my way back to the hotel to drop off a bag, I was hunted down and thoroughly harassed by a clan of raiders. The Ratchet Roaches features some of the most fearsome faces in the wasteland, but they're always willing to talk chems. My vault dweller always happens to have some Jet for getting out of a rough situation.
Then con families collided. Courtney introduced me to her con mom Emily, who I found so delightful that I immediately had to invite to spend time with my con family. She accompanied us back to the hotel where everyone was preparing for the evening's annual Dragoncon aquarium party. We went into the con thinking the event was sold out, but earlier that day Justin found out that the box office still had a few tickets so he instinctively grabbed enough for me, Courtney, and himself. Our NC con fam had talked up the party so much, we were extremely excited to attend. Unfortunately Ryan and Darrel had to depart the convention before the aquarium party for obligations back in STL, and the steep price kept Emily as well as several others from joining us, but we pressed on to see the fishes.
Justin, Courtney, and I walked the three to four blocks from the Hotel Indigo to the Georgia Aquarium. We were met with plenty of amazing sights. Justin disappeared quickly to meet up with our other STL friends while Courtney and I explored the attractions. We couldn't help feeling sorry for the bigger sea dwelling creatures stuck in these enclosures, but we were still in awe of seeing them up close. Whale sharks, manta rays, jellyfish, beluga whales, river fish, and Mario with the penguins didn't fail to entertain the attending con goers.
Not after long, we met up with our NC con family. Jenn was dressed as a Team Zissou Harley Quinn, and there were so many other Zissous at the aquarium that we had to get together for an impromptu photoshoot! I was joined by Sergei, Chris, and about a half dozen other photographers to catch the scene. As we broke from the shoot, I noticed that Courtney had left. She stepped into the gift shop briefly to find an item for her con mom Emily. What she found were a couple of adorable plush octopus slap bracelets, one of which was for Emily and the other soon found its way into Courtney's hair.
For dinner on Saturday evening, we decided to go for nearby looking for a place that probably wouldn't be a long wait. We decided on something that Courtney had never had before, which I figured was a good idea because everyone should go there at least once. Emily, Courtney, and I went to the edge of the next block to Hooters for some wings! It may have been the drinking establishment of choice for many of the football fans in town, but the staff was all on deck for Dragoncon wearing costumes to join the fun.
Emily retired for the evening while Courtney and I ventured over to the Marriott to find our other friends. Another evening of fun overtook Atlanta as cosplayers and fans of all things nerd intermingled in joyful celebration. After spending a couple hours out with our friends, I decided to return to the hotel once Courtney was safely on her way back to her hotel across town. Saturday was exhausting!