Dragoncon 2017: A Weekend in Review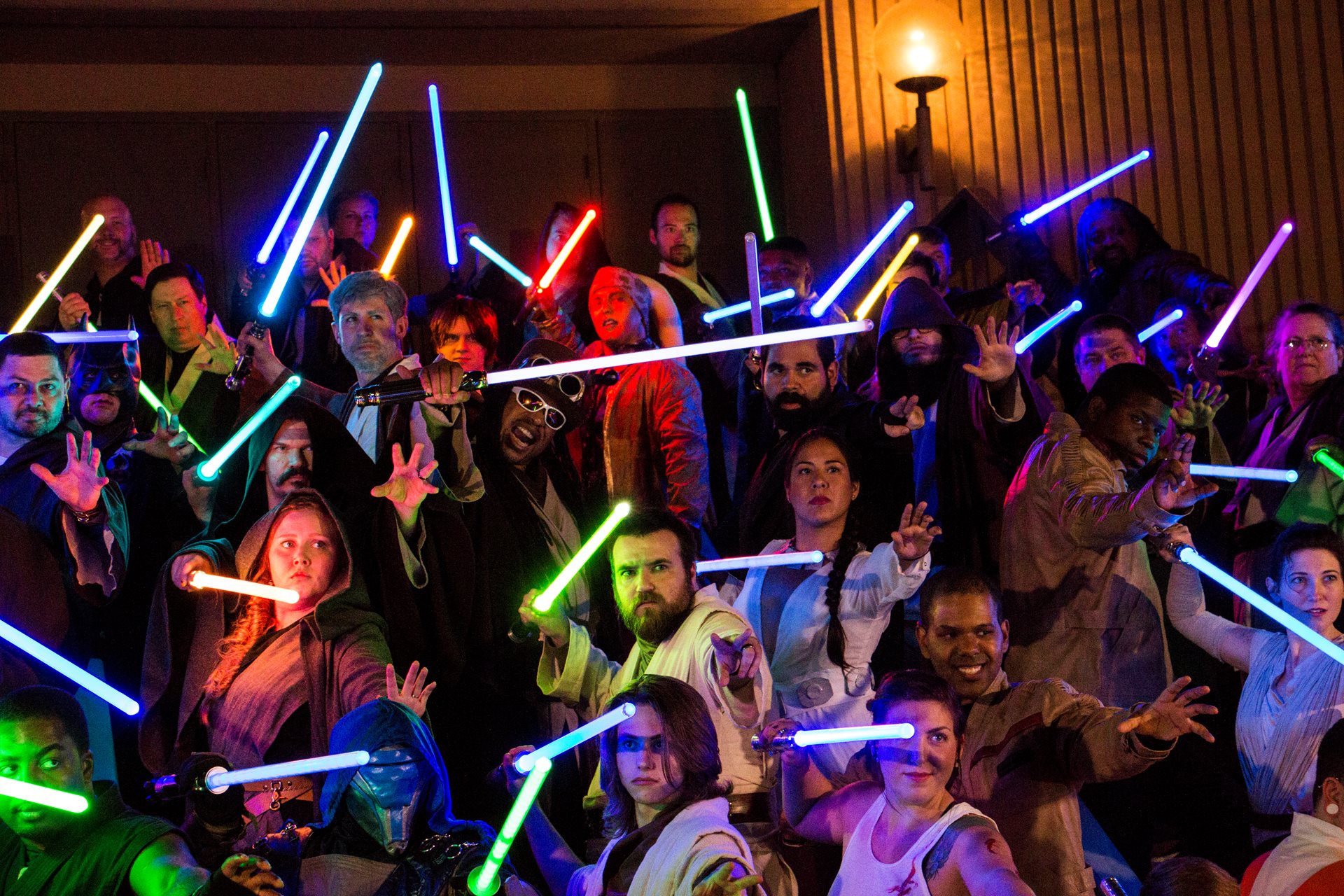 Dragoncon 2017 was a weekend of many firsts for me. This was my first Dragoncon, and was my first time even in Atlanta, GA. My last con excursion out of town was to Raleigh, North Carolina. That trip held plenty of excitement, but there was always a sense of comfort knowing that it was the home turf of the NC half of my con family. Dragoncon was in strange territory, and had even stranger things in store.
I have to admit it was all a bit overwhelming! I've grown used to cons being in one central location, with maybe an after party or three out in the surrounding city. Dragoncon was held over at least 6 buildings, intermingled with a variety of restaurants AND a mall, all within a handful of square blocks. Dragoncon didn't feel like a convention as much as a community. More than 80,000 fans of a wide variety of fandoms absolutely filled the halls, lobbies, and atriums of the downtown Hyatt Regency, Marriott, Hilton, Westin, and Sheraton hotels. The vendor and exhibition halls were held at America's Mart, where the booths filled up three whole floors. America's Mart also held multiple floors of gaming options in the adjoining building.
But it was as fun as it was exhausting. I would describe it as the Mardi Gras of cons. Everyone in attendance was there to celebrate being a nerd and have a great time. The excitement and passion of these wonderful people is something I'd like to see every year. It truly was an invigorating and inspiring experience.
I owe a huge thanks to our North Carolina con family for being so accommodating with the rooms and plans for the weekend. Jenn, Sergei, Jenny, and Chris are all fantastic for allowing us to join them on this journey of fun.
FRIDAY
This weekend has to be a record for fewest hours of sleep. We started Friday off at about 6am when we arrived at our hotel and went to sleep, attempting to get at least a few hours before the busy day to come. Due to the rain delays on the way down, this was an unavoidable mistake.
Our day started on a steep learning curve. Rather than confirm where Media Registration was located, we started a three block trek downhill to the Sheraton where standard registration was being held. We were quickly rerouted to the Hyatt, three blocks back up the hill we'd just walked down… off to a great start.
Even with the extra walking, the morning was packed full of amazing sights. Cosplayers were already reveling in the company of their fellow nerds. The truth was we were a whole day late compared to a lot of people. I kind of regret missing Thursday's festivities, but mostly because arriving there earlier would have meant more sleep.
It wasn't long before we ran into some familiar faces, Fire Forged Cosplay from St. Louis. Comprised of sisters Diana and Dana, Fred, Brandon, and Josh, Fire Forged is a talented group of cosplayers that cover both solo and group cosplays. We decided to venture through the hotels together on our way to meet up with other friends, but my piece for Beyond the Blast Doors led me toward the Marriott. Soon enough though, Fire Forged as well as our friends Sarah, Hannah, and Morgan Ashley of Terrible Trio Cosplay arrived in their outstanding fantasy Kylo Ren and Captain Phasma costumes. The armor was surely a sight to behold, crafted completely out of leather, surely bound to go far in the costume contest. Everywhere they went, they were turning heads. Diana was also there to enter as Anew Sefet, a costume that had already taken Best Female Villain at Wizard World St. Louis. I knew the other contestants would have quite a steep hill to climb to compete with them. After collecting plenty of photos of the impressive cosplays filling the Hyatt and Marriott, the anticipation of donning my new costume was killing me.
I returned to my hotel to throw on the new rags and bring my original Jedi character to life. I don't know his name yet, but I do know his story.
The blind man does not walk the traditional Jedi path. He did once, when he was a young and idealistic Padawan during the Clone Wars. He barely survived Order 66, but his master did not.

He laid low in the Outer Rim during the rise of the Empire, finding work on a cargo ship. His visions became much clearer, allowing him to avoid the Imperial eye. The visions finally led him to a woman with a troubled past and an even more troubled future if he didn't intervene. When he discovered she was being hunted by an Imperial Inquisitor, he sought to teach her everything he knew about the Force. He knew it was only a matter of time before their hunters caught up to them, so they needed to be ready.

While she was clearly talented and gifted with the Force, the love of his life had a short fuse. Tasting the power to change the galaxy but not being able to use it made her feel held back. When her research discovered darker methods of wielding the Force, they came at odds. She was getting more and more reckless while he was getting more and more desperate to keep her safe. When an Inquisitor finally caught up to them, he was forced to engage because she wouldn't flee. During the fight, she decided to try out her new ability and electrocuted the Inquisitor to death. Her love tried to stop her, but she lashed out at him as well.

He scolded her for giving into her dark impulses, warning her of the danger she's bringing on herself and everyone around her. The argument led to a duel, in which she hoped to prove herself better. A precise strike broke her lightsaber and she let out another blast of Force lightning into his face in response. Bolts hit his eyes, and he was blinded instantly. Severely off balance, she easily took him down. As he struggled to regain his bearings, she dropped her broken lightsaber to the ground in front of him. She took the Inquisitor's red blade and left him to the incoming Imperial patrols.

Despite being blind, he was able to escape before Stormtroopers arrived on the scene. He disappeared into the less travelled areas of the galaxy for years, honing his Force sight to make up for the loss of his eyes. He still wears the lightsaber crystal that once belonged to his love, holding onto the hope that he could one day find her and bring her out of the darkness.
I feel like I just interrupted being a nerd by being a nerd. The short version is he's a blind Jedi who surived Order 66 and no longer follows tradition, wearing the lightsaber crystal belonging to the woman he loves hoping to one day redeem her. The only problem with that was that I didn't have a lightsaber crystal necklace. As soon as I put the costume on I decided to check out the vendor hall. Now, there were three whole stories to explore in this building so I had no idea where to start. I decided to let the Force guide me.
I entered the building on the second floor and my walk led me to a small booth called Obsidian's Caldera where the friendly proprietors showed me exactly what I needed to complete my costume. A piece of rose quartz cut down to shape made for the perfect Kyber crystal, and it was already in a wire frame. Unfortunately they didn't have a strand appropriate enough to be considered part of the Star Wars universe. That's where my next topic comes in.
Any group of cosplayers and congoers calling themselves a "con family" should have themselves a good con mom: someone who loves and cares about all of their less responsible costume clad children. Saving the day like the awesome woman she is, my con mom Jenny was willing to mutilate one of her own costume pieces to give me enough leather string to make a strand for my kyber crystal necklace! I have to thank her big time for helping make my character come to life.
I also need to thank my wonderful girlfriend Courtney, who helped me put together the Jedi ensemble in the first place. Without her, I would have had a much harder time finding a material that worked so perfectly as my blindfold. She also accompanied me to the Jedi vs Sith photoshoot on the back steps of the Hilton. It was quite easy to find at night. You just had to follow the lightsabers. Stepping into the courtyard, we were in awe of the various characters and multicolored light show. Jedi and Sith alike posed for pictures, reveled in their love of Star Wars, and compared lightsabers. Some even clashed sabers. Within minutes, a circle had formed around a whirl of blades as two Jedi dueled for fun.
Soon enough though, we were being corralled and ushered up onto the steps for pictures. I grabbed as many photos as I could before stepping into the fray. Courtney stepped in to save the evening and take some awesome pictures of the group with me in it. The photographer setting up the shoot arranged us in a variety of ways, all of which made for some great visuals. I still have a lot of room for improvement, but I think version one of my Jedi costume turned out pretty well.
After the shoot, Courtney and I went for dinner. The Metro Café Diner was right down the street and our friends had recommended it so we decided to check it out. We were staggered by the amount of amazing cake options they had on display. The food was pretty standard diner fare, but those cakes. Sweet Christmas, those cakes. Unfortunately our meal was cut short as a friend emergency forced us to call it early. We settled the issue and Courtney headed back to her hotel for the night. This was about when my new Jedi boots finally started to take their toll. I had already switched back to street clothes, but all of the walking up and downhill from hotel to hotel was making me burn. I met with some STL friends to hang out briefly at the Marriott after party, and then decided to call it a relatively early night. 2am is pretty early for Dragoncon.