Preview: O'Jays and The Spinners at Family Arena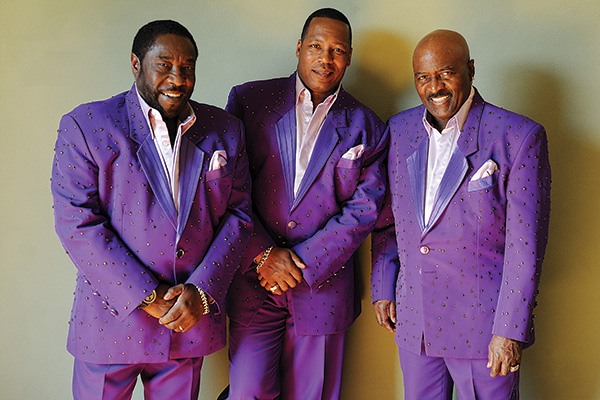 On Friday, Nov. 10 The O'Jays will make a stop at The St. Charles Family Arena. For over 50 years, the O'Jays have been touring, playing the R&B music that made them famous and provided the soundtrack for the lives of many generations.
The O'Jays were inducted into the Rock & Roll Hall of Fame in 2005. They were inducted into the Vocal Group Hall of Fame in 2005 and honored with BET's Life Time Achievement Award in 2009. In 2013, they were inducted into The Official R&B Music Hall of Fame. Today, the songs of The O'Jays are still being used in many movies, commercials and TV shows. "For The Love of Money" continues to be the theme song for "The Apprentice."
Eddie Levert Sr., Walter Williams Sr. and Eric Nolan Grant, who joined the group in 1995, continue to thrill fans today. Throughout their career The O'Jays have achieved 10 Gold albums, 9 Platinum albums and 10 #1 hits. It's been a long journey but thanks to the fans the LOVE TRAIN is still going strong!
The Spinners will join the O'Jays on tour. Most often thought of as a Motown recording act, the classic group sound of legendary R&B recording artists, The Spinners has never lost its universal appeal. Throughout the years they have sold millions of records and topped both the Pop and R&B charts with smash hits like "I'll Be Around" and "Then Came You." Today, original member Henry Fambrough is joined onstage by lead singer Charlton Washington, high tenor Marvin Taylor, tenor Ronnie Moss, and bass singer Jessie Peck; a soul-infused 5-piece band, led by Keith Ferguson, backs them up.
The Spinners have six Grammy nominations and have performed twice during the awards ceremony. Inducted into the Vocal Group Hall of Fame in 1999, they have also been awarded the Rhythm and Blues Foundation Award for their contribution to the genre. The group has performed for presidents, received a star on the Hollywood "Walk of Fame," and has appeared in numerous network and cable television specials paying tribute to the music of the 70's.
Tickets for the show go on sale in Friday, Sept. 15 at 10 am.
Once again the show is Friday, Nov.10,at 7:30pm.
Tickets can be purchased at the Family Arena Ticket Office or online at metrotix.com.