Disney-Pixar's MONSTERS UNIVERSITY World Premiere Tailgate Party at the El Capitan Theatre in Hollywood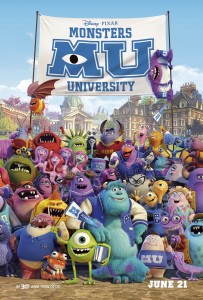 It's hard to believe that it has been nearly 12 years since Monsters Inc. hit theaters. It was only Pixar's fourth feature, releasing fresh off the success of Toy Story 2. By that time the young company had already made a name for itself, and it seemed they could do no wrong. It scored a 96% on Rotten Tomatoes – 182 "fresh" reviews out of 190 critics.
Until Cars 2 in 2011, it seemed like Pixar wasn't in the business of doing sequels (with the exeption of their flagship Toy Story franchise). But the company has grown tremendously since then, especially since being acquired by the Walt Disney Company in 2006 for $7.4 billion dollars. With a sequel to Finding Nemo announced earlier this year, and Monsters University releasing later this week, it seems like they have no problem bringing back some of their audience's favorite characters.
This Monday at the El Capitan Theatre in Hollywood, Disney-Pixar celebrated the release of Monsters University with a giant tailgate party. Cheerleaders and drummers from MU (Monsters University, the "scaring" school that Mike Wazowski and James P. Sullivan attend in the film), the Disneyland All-American college band, and even Mike and Sulley were on-hand for the event. ESPN converted College Gameday into "College Scareday" and did play-by-play for the party.
Billy Crystal, who voiced Mike in both films, was also in attendance – along with executive producer and Disney-Pixar chief creative officer John Lasseter.
Check out photos from the Monsters University World Premiere Tailgate Party:

no images were found
MONSTERS UNIVERSITY releases in theatres in 3D on June 21, 2013!
About Disney-Pixar's MONSTERS UNIVERSITY
Ever since college-bound Mike Wazowski (voice of Billy Crystal) was a little monster, he has dreamed of becoming a Scarer—and he knows better than anyone that the best Scarers come from Monsters University (MU). But during his first semester at MU, Mike's plans are derailed when he crosses paths with hotshot James P. Sullivan, "Sulley" (voice of John Goodman), a natural-born Scarer.  The pair's out-of-control competitive spirit gets them both kicked out of the University's elite Scare Program. To make matters worse, they realize they will have to work together, along with an odd bunch of misfit monsters, if they ever hope to make things right. Screaming with laughter and oozing with heart, Disney•Pixar's "Monsters University" is directed by Dan Scanlon ("Cars," "Mater and the Ghostlight," "Tracy"), produced by Kori Rae ("Up," "The Incredibles," "Monsters, Inc.") and features music from future Rock and Roll Hall of Fame inductee and award-winning composer Randy Newman ("Monsters, Inc.," "Toy Story 3"). Check out disney.com/MonstersU, like us at facebook.com/PixarMonstersUniversity, and follow us on twitter.com/disneypixar. Rated G by the MPAA, the film opens in U.S. theaters on June 21, 2013, and will be shown in 3D in select theaters.