'Finding Dory,' Sequel to 'Finding Nemo' Announced by Disney-Pixar for 2015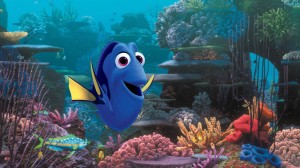 This week Disney-Pixar announced that they are working on a feature-length sequel to the 2003 Oscar award winning Finding Nemo. The film will not revolve around Nemo and his father Marlin however, but rather their forgetful companion Dory (voiced by Ellen DeGeneres).
Director Andrew Stanton returns to direct, this time without co-director Lee Unkrich (Toy Story 3), along with DeGeneres to once again voice the title character. "There is no Dory without Ellen," said Stanton. "She won the hearts of moviegoers all over the world—not to mention our team here at Pixar."
About getting her own film, DeGeneres said, "I have waited for this day for a long, long, long, long, long, long time." She added, "I'm not mad it took this long. I know the people at Pixar were busy creating 'Toy Story 16.' But the time they took was worth it. The script is fantastic. And it has everything I loved about the first one: It's got a lot of heart, it's really funny, and the best part is—it's got a lot more Dory."
Stanton says that Finding Dory takes place about a year after Finding Nemo. The film will feature several return appearances from characters in the first film like Marlin, Nemo, and his friends that he met in the fish tank.
Disney-Pixar's Finding Dory is set to dive into theaters November 25, 2015.