WWE WrestleMania 29 (April 7) Preview and Predictions: Rock vs. Cena, Undertaker vs. CM Punk and More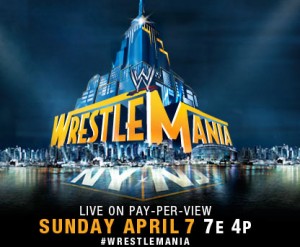 We are less than a week away from the biggest event in wrestling!
Mark it on your calendars – WrestleMania 29 will take place this Sunday, April 7. The event, which is the biggest payperview of the year for World Wrestling Entertainment (WWE) will feature three main-event matches over its 4-hour span.
Check out my picks for top 10 Wrestlemania matches of all time!
Being the wrestling junky that I am, here are my predictions for the event:
Tons of Funk (Brodus Clay and Tensai) and The Funkadactyls (Cameron and Naomi) vs. Team Rhodes Scholars (Cody Rhodes and Damien Sandow) and The Bella Twins (Brie and Nikki)
While this match is not going to win any style points, it should be fun. It mixes several different personalities. I am a huge Brodus Clay fan, mainly because his ring entrance is among the best in the business. I'm sure it will be a bit more overblown, given the huge stage of WrestleMania. Forget great technical wrestling here, this will be all about comedy and dancing. I will pick Brodus and Tensai to win.
Intercontinental Championship: Wade Barrett (c) vs. The Miz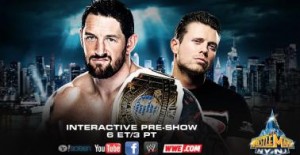 Has there been a belt that fans care less about? Wade Barrett does nothing for me. His character is boring. He's a pretty solid performer in the ring, but that's about it. The Miz is trying to make it as a Face. For all you who are not down with the wrestling lingo, Face means good guy. The Miz is a likeable bad guy. I personally love his shirt that says "Haters Love Me Because I'm Awesome". There just might be one hanging in my closet. I look for Miz to get the win here. Putting the Intercontinental Belt on him could make it relevant again, or it might not. One thing is for sure, it can't get any less irrelevant.
Chris Jericho vs. Fandango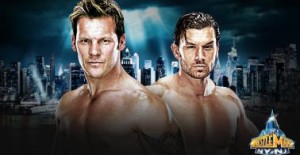 It's pretty clear that the fans are not digging the character Fandango. A wrestler who is a ballroom dancer? I actually think the guy has some talent in the ring, despite the chants of "You can't wrestle" by crowds everywhere. Jericho is a great worker, who doesn't get the push he deserves. I guess it doesn't help that he misses a lot of time due to touring with his band Fozzy.
Rumor is Jericho will be leaving the WWE for another tour shortly after WrestleMania. Because of that, I'm picking Fandango to get his first win in the WWE. This should be a pretty good match though, as Jericho always puts on a great show for the fans.
Tag Team Championship: Team Hell No vs. Dolph Ziggler and Big E Langston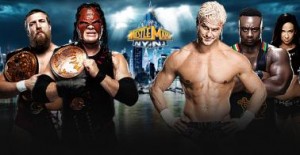 This match really does nothing for me. I really cannot stand Kane and Daniel Bryan together. I think it's a stupid paring. I will usually fast-forward through any match, which I feel bad doing, because Bryan is awesome in the ring. I will go with Team Hell No in this one though, as I think Ziggler will have bigger things to come later in the evening.
Ryback vs. Mark Henry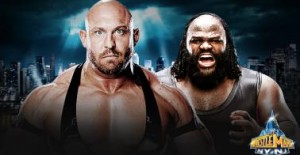 I think this could turn out being one of the best matches of the night, or one of the worst. This is classic WWE wrestling. Ryback and Mark Henry are to of the biggest, most muscular wrestlers in the WWE, and I think this will be a good match. The feud between the two has been building for a month. This feud has some great storytelling with it. Neither man has been allowed to lay a hand on each other, which makes the match even more interesting. I'm going with Ryback to get the win here, but I'm hoping Henry gets to flex some muscle too.
Sheamus, Randy Orton and The Big Show vs. The Shield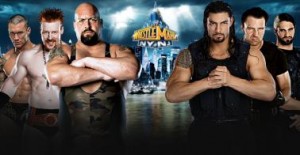 This is another feud that I really don't care about. I am not too crazy about The Shield. A number of columnists have anointed them the most exciting thing in the WWE. I tend to disagree. To me, they are no different then the Nexus from a couple years ago. They are also nowhere near as exciting as New World Order (NOW) from a few years back.
I look for The Shield to get the win, as I feel like Randy Orton will go back to being a heel (bad guy). He is such a great heel, his character can only benefit from it. A feud with Sheamus, who is one of the top stars in the eyes of the younger fans, would be a great way to change Orton's character from beloved to hated.
World Heavyweight Championship: Alberto Del Rio (c) vs. Jack Swagger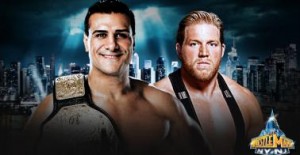 Del Rio's turn as a face, really surprised me. Not that I dislike it, but I just felt he made a better heel. Personally, I could not stand his character as a heel, he just irritated me, so it was fun seeing him get the tar beat out of him. Now, against Jack Swagger, Del Rio plays the Face, which he has done very well. He seems to be very over with the fans. Swagger, on the other hand, has re-invented his character. I was always a fan of his, and never felt he got the push he deserved. Some thought he might have blown it before he could make it to WrestleMania, as he was arrested a few weeks back for drunk driving and possession of pot. But, the WWE has stuck by him, and he has done a solid job of playing the villain. I am picking Swagger to get the win. I'm sure he'll find some way to screw over Del Rio.
Also, don't forget the Dolph Ziggler has to cash in the Money in the Bank briefcase. He has to cash it in at WrestleMania. That fact has been kept very quiet by the WWE, which leads me to believe that it will happen.
Brock Lesnar vs. Triple H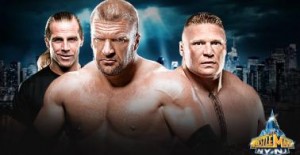 I am hoping this match is as good as I'm expecting it to be. I'm a huge Brock Lesnar fan. I love his personality. He's just a huge monster, and he plays it well. This storyline goes back nearly one-year, which makes this match even that much better. Lesnar has broken Triple H's arm twice already. WWE recently signed Lesnar to an extension. He only appears on 3 to 4 pay per views per year. With his lax schedule, I can't see him winning; even though I would love to see him destroy Triple H. Triple H is no longer an everyday wrestler either. While this match is touted as being a win or retire match for Triple H, he spends most of his time running the WWE along with his wife Stephanie McMahon. I look for Triple H to get some revenge on Lesnar. Hopefully this is a knockdown, drag out, slobber knocker of a match.
The Undertaker vs. CM Punk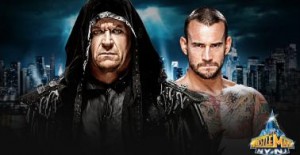 This match should be the most exciting match on the card, but due to poor storytelling, it's one that I could nearly care less about. Will CM Punk ruin the Undertaker's 20-0 WrestleMania streak? I highly doubt it. I think nearly everyone predicts the Undertaker will win. Having lost his former manager a few weeks ago, that became part of the storyline. I personally think the WWE using Paul Bearer's death as part of the storyline is a bit disrespectful. Making things even worse, Punk dumped what appeared to be Bearer's ashes from an urn onto the Undertaker on Monday Night Raw. Punk then took a handful of the ashes and rubbed them all over himself. I honestly was very excited for this match when it was first announced, but the writers have wasted a golden opportunity at what could have been the match of the year. I know that Punk is on a losing streak over the last couple pay per views but, unless he is retiring from wrestling all together, Undertaker's streak will be safe for one more year.  The Dead Man gets the win, despite a valiant effort from one of of the WWE's top stars.
WWE Championship: The Rock (c) vs. John Cena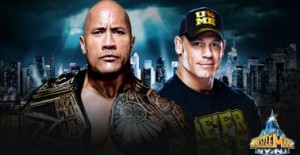 Last year's WrestleMania main event was billed as "Once in a Lifetime", but like all good things, there is usually a sequel. This year's match just doesn't have the same bravado as it did last year. It was well-known that The Rock and Cena did not get along. The Rock is without a doubt the most famous wrestler to go main stream into acting. While you could make a case for Hulk Hogan, The Rock is now looked at as nearly a guaranteed hit-maker when it comes to acting. So, why is he back with the WWE? He is filthy rich, probably known throughout the world, and is 40 years old, so why come back? Ego could be the reason, or maybe he just loves the WWE that much. Whatever the reason, The Rock is now the WWE champion and John Cena wants the title. Last year's match was great. Cena, who is usually criticized for his lack of wrestling skills, carried the match.
This year's rematch is being called "Redemption". Can Cena redeem himself? The storyline revolves around Cena's downward spiral following the loss. He lost the title, got hurt, then divorced. It has not been a stellar year for the poster boy of the WWE. But, he is ready to redeem himself.  Here is my question: Will he win fair? I smell a possible heel turn for the WWE good guy. It's been rumored for several months, but after watching Cena's promos and interviews, he is starting to grow tired of the booing and taunts of the fans. Could he turn his back on the kids? I mean it's no secret that the kids love Cena. But, could a heel turn be in the works? I am hoping so. So, while this match may not have the same exciting build up as last year, I am still very intrigued by it.
Can The Rock still get it done at age 40? We know he can talk, joke, and get the crowd going, but physically, can he handle it? Will Cena get his redemption? Will he turn his back on the legions of children that look up to him as a role model? I'm going to predict a Cena win.
WrestleMania will air live on pay per view on Sunday, April 7 for $54.95. Order at WWE.com.