Watch Martin Scorsese's 'The Wolf of Wall Street' Trailer Starring Leonardo DiCaprio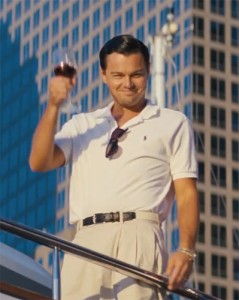 In just over 24 hours, the official trailer for Martin Scorsese's The Wolf of Wall Street has received over 1.2 million hits on YouTube.
The film, based on the memoirs of Jordan Belfort (the real "Wolf of Wall Street), stars Leonardo DiCaprio, Jonah Hill and Matthew McConaughey as stock brokers who have more money than they know what to do with. Unfortunately they didn't get it all legally, and the fun eventually comes to and end when they are investigated by the SEC and FBI. However it looks like a majority of the film focuses on the good times in-between.
Release Date: November 15, 2013
Watch the trailer for The Wolf of Wall Street:

Synopsis: A New York stockbroker refuses to cooperate in a large securities fraud case involving corruption on Wall Street, corporate banking world and mob infiltration.
Director: Martin Scorsese
Writers: Jordan Belfort (book), Terence Winter (screenplay)
Stars: Leonardo DiCaprio, Jonah Hill, Matthew McConaughey, Jon Favreau, Spike Jonze