Brad Reviews "Despicable Me" Starring Steve Carrell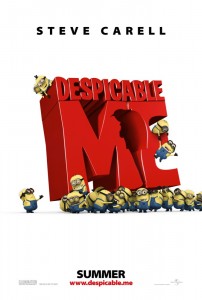 "LIGHT BULB!"
"Despicable Me"  is not a story rich with content stunning in animation as Pixar offerings, instead settles for being good fun, goofy, and a little heart worming, it hardly seems like settling at all.  Universal Studios animation decided to take on Pixar this summer they had a tough job.  The film is not equal to that of Toy Story 3 which is a genuinely moving experience (Here is my Toy Story 3 Review if you didn't get a chance to read it) .  Universal had to know it would not match up in story or animation so it didn't try. Instead, "Despicable" simply plays to its strengths: Steve Carell who voices Gru describes Gru's accent as a cross between Ricardo Montalban and Bela Lugosi; with one gag after another which doesn't wear you out, and a story that is a little predictable, sweet, and transforms the main character to a good guy you grow to love.
Gru (Carell)  is a villain. NOT a super villain like he dreams of being, but a small scale villain.  His main achievements in his career so far is steal the Statue of Liberty – not the real one, but the replica in Las Vegas. Still, Gru's got big plans: He's going to steal the moon. All it takes is a shrink ray and a bank loan from the Evil Bank Company, which turns out to be not easy.
The Evil Bank is not loaning out money like it had in the past (sound familiar?) Gru also has some things going against him. One: His schemes never quite pay off like he plans , Two:  Gru is not as young anymore, Not like his competition who just stole a pyramid Vector(Jason Segel).
Vector has the shrink ray.  Gru and Dr. Nefario (Russell Brand), his hard-of-hearing scientist assistant (yes, I laughed when Gru ordered a dart gun but Nefario crated a Fart gun) and their "minions," little yellow pill-shaped creatures, don't seem sufficient to steal it. Then with all hope lost  Gru would say, "Light bulb!" He hits upon the idea of adopting three orphan girls who sell cookies to Vector. He uses the girls to gain entry into Vector's compound, which,is not a Pixar story line,  but it's something to advance the plot, and create a human element with Gru.
Gru who at first has no real interest in the girls, ends up enjoying their companionship.  The Orphanage is run by miss Hattie (Kristen Wiig ) is the meanest head of an orphanage since Carol Burnett play Miss Hannigan in "Annie".   The story as I have stated is o.k. not Great, predictable, but it keeps your attention.  More importantly it kept my 6 year old daughter Addy's attention.  She didn't play with the 3d glasses move from seat to seat, instead she sat staring at the film the whole 95 minutes.
Overall I enjoyed "Despicable Me". You won't be moved to tears, you won't remember half the gags by the time you get home from the theater.  But you will laugh, quite a bit.  You won't laugh at all the gags, but most – that's enough for me.  It is an enjoyable fun trip, you and your children will enjoy.
As I always do for kids movies, I will grade it and will quote my daughter.  I give "Despicable Me" a B+.  I enjoyed the film for what it was, but not as awesome as Toy Story 3.  You will love the Minions even though you don't understand what they are saying. Great Family movie it has humor for the parents and for the kids.  All around good time.
Addy's review… She said, "I liked this one Daddy"  I asked her as good as Toy Story 3?  She said, "no, but good" and "I want a Yellow Guy."  She said she gives it an A.  Not as good as Toy Story 3, but it is more funny.  Those are quotes — take them as you will.
On a Side note see this flick in 3D also stay into the Credits you won't be disappointed. ! I will leave on this note as Gru would Say "Light Bulb" Take your family to this movie if you want something to do inside this weekend!