TOY STORY 3 – Ten Years in the Making (Review)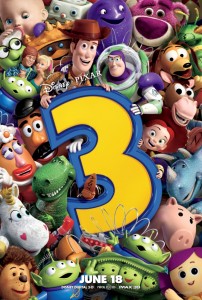 This past Tuesday night, thanks to ReviewSTL.com and Radio Disney, I had one of those movie going experiences that reminds you of what makes going to the movies such a special experience. I was also reminded of why we continue to sit in the dark and watch movie with strangers, despite rising ticket prices. I was able to take my daughter Addy who is age six and three of her friends a 4 year old boy, another 6 year old girl, and a six year old boy. Along with them came their Mothers who like me loved Toy Story one and two and have been waiting ten year to see the new toy story.
I am a big fan of animated movies, and Pixar's record in this department is unparalleled to the point where adults are often more excited about a new Pixar release than kids are. This is what happened with last year "Up". I think Up was more for Adults than the children. That is not the case with Toy Story 3.
The crowd in Regal Theater at the Mills Mall was a Mixture of adults and children. For virtually the entirety of Toy Story 3's 103 minutes, the crowd was laughing as the continuing saga of Buzz Lightyear (Tim Allen), Woody (Tom Hanks), and the rest of Andy's toys with several new additions including the Evil Lotso (Ned Beatty) return to form. Toy Story 3 once again takes you back to your childhood or in my case young adulthood as Andy prepares to leave for college and his toys face being stored in the attic, donated to a daycare school, or simply thrown out with the trash. While the toys address their new problem with the kind of seriousness which is found in a drama, they're still toys, and the audience roared with laughter as they attempted to navigate this world.
That is, everyone in the audience was laughing until the final scene, where most everyone had at least one tear running down their cheek—my daughter was crying. After talking to some parents not only did their kids have some tears but they did as well. I wouldn't say the crying was a sad cry but more of a Happy Cry.
Experiences like this that remind me of why I love movies and the special and powerful place they hold in our lives. There are so few instances where we can collectively take an emotional journey like that in the company of friends and family and also strangers of all ages, and that it could be done with a story about toys makes it all the more fun and integrated into our memories of the past. We all had our favorite toy that we wanted to take with us to college or to our first apartment. (I still have all of my Star Wars Toys). Toy Story 3 gives us another chance to glance into the secret world of our toys and not only see how they see themselves and each other, but also how they see us, and how they face all face a world where we've become too old to play with them (again except for me I now play star wars with my daughter). After the 103 minutes we step out of that world, out of the theater, and back into our own, to look at ourselves, our childhood, our children, in a new way that accepts how time flies in our lives, but remember the toys that are our most trusted and beloved companions along the way — like my Ewok Village, or Luke Skywalker.
As I normally do when I review a kids movie I give a review from the Adults point of view and from the kids point of view. First My Grade I would give it an A+. I think Pixar did everything right in this film and if it is the final chapter in Woody and the Gangs adventures I am happy with the way it ended. I did see this in 3d and if you can do the same. Pixar made animation come to life with Toy Story 1 and now 3d makes virtually all Movies come to life!
Now quotes I got from the kids after the movie. One said best movie ever can we go again now. Another said I love it I love it I love it, do my toys come to life when I turn out the lights? I will tell you this out of 4 kids all 6 and under, they all stayed seated with their 3D glasses on the entire movie. That is huge in my book! I did ask the kids what grade they would give the movie they all said they would give the movie and A. Except one said what is better than an A. With that I would say It is a Great Family movie the Adults will love it and your Kids will love it as well. I might have to go as far as Pixar has brought me the best movie going experience I have had in a long time!
Brad Watts
On a side note Radio Disney is trying to get toys for Toys for Tots They will be at Chesterfield Galaxy starting at 6:00 p.m. on Friday for the Opening of Toy Story 3. Drop off a new unwrapped toy for this Great Charity. Rock N Roll