Comic Review: Action Comics #19 by Andy Diggle & Tony Daniel
First, let's talk about the new writer, Andy Diggle.  What a breath of fresh air.  No high concept stories.  No crazy ideas.  It was a straight forward Superman versus Lex story. One of the many problems that the "Superbooks" have had is an overthinking of the concept of who or what Superman is.  Diggle doesn't overthink.  He understands that Clark doesn't have to be dark and gritty or in unwinable situations.  He just needs a little personality and the ability to punch through something.  He also understands that Lex is the perfect match for Superman, brain versus brawn.  Not only does Diggle get the Superman/Lex relationship, but he also gives a little taste of Lois and Clark.  As much as I like the idea of Superman and Wonder Woman being a couple, there's something about Lois and Clark that just feels right.  Diggle's ability to give Superman a human voice is the best aspect of his writing on this book.  Some writers have a hard time making Clark sound like a normal person with super powers rather than an alien.  Diggle also nails Lex Luthor.  His version of Luthor is nothing short of terrifying.  It's a really nice throwback to Moriarty (Sherlock Holmes's arch rival).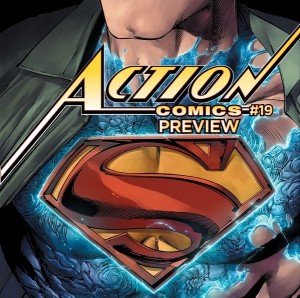 On to Tony Daniel's art.  I was really worried about Daniel's art coming into the book.  His style was dark and muddled on Detective and Batman.  Daniel did a fill-in on Justice League, and he had a much lighter, much brighter style. He brought that style back on Action.  His action sequences were great.  Superman fighting giant robots – he destroys it (literally).  I wasn't a fan of Superman's face in the shadows with glowing red eyes, but overall I was really excited to see his work on the run.  Also, Daniel is one of three artists so far who can draw Superman's new costume and not have it look like complete shit (Jim Lee and Ivan Reis are the others).  I like the idea of Superman's costume being similar to Iron Man's – a type of organic suit.  It's a nice update to the idea that Clark is always wearing the suit under his clothes.
I had really hoped that these two would continue their run, but alas that won't happen.  Andy Diggle has already left the book after penning possibly only a few issues.  Tony Daniel will take over as writer and artist.  It's a real shame because this team made a great initial impact, but unfortunatly we won't get to see the full extent of what was planned.