Movie Review: 'The Place Beyond the Pines' Starring Ryan Gosling and Bradley Cooper
And with that headline, I either caught every lady's attention to read this article or they stopped reading so they could find showtimes.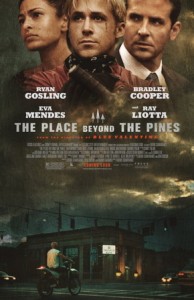 I'll admit, I wasn't too familiar with this film before I was asked to review it, but with two of the biggest names in Hollywood featured in it, I figured it was worth a shot. I met up with my lovely friend Sarah to grab lunch and see the movie. Being a female, I think she was pretty pleased with the choice of actors for the main characters.
Luke Glanton (Gosling) is a motorcycle daredevil, traveling with a carnival performing stunts on a nightly basis. He has a decent following, and he enjoys his work. On the carnival's penultimate night in Schenectady, New York, he spots Romina (Eva Mendes), an old flame. He stops by her house the next day to say goodbye, only to discover she has a one-year old son: his.
Realizing just how much his life would change, he quits his job in the carnival and decides to stay in town, where his riding draws the attention of  Robin (Ben Mendelsohn), who offers him a job working at his body shop. Dissatisfied with the money he's making, Robin tells Luke how he used to rob banks before police attention forced him to stop. Desperate to provide for Romina and his son, Jason, he agrees to go with the plot. The first few robberies are successful, but when Luke wants to get more daring, Robin backs out, leaving Luke to venture out on his own.
Meanwhile, young police officer Avery Cross (Bradley Cooper) is patrolling his beat when he receives the call about the robbery. His pursuit of Luke inevitably sets off a chain of events that ultimately impacts not only their lives, but that of their families down the road.
Reuniting with director Derek Cianfrance (the two previously worked together on Blue Valentine), Gosling provides an interesting dichotomy in the film; he's a jerk and can have a hot head, but he also wants nothing more than to provide for his son. Desperate for Jason to have a bright future, he discourages Romina from even talking about his lifestyle, begging, "Don't tell Jason about me."
On the other hand is the clean-cut Avery, a new officer six months out of the academy. Avery's goal-driven, as his negotiations demonstrate, but he's also concerned primarily about his family, namely his wife and his son AJ. Cooper does an excellent job portraying an uncertain man forced to measure his future with his conscience, and he measures up well.
What follows is a series of coincidences that ultimately alter the lives of both families. The end result are two young men, Jason (Dane DeHaan) and AJ (Emory Cohen), who approach two similar yet very different paths to their lives. It was interesting to note the resemblances these two young men bear to other actors. Sarah pointed out Jason/Dane's resemblance to Leonardo DiCaprio, while I thought AJ/Emory could be a young doppelganger for (ugh) Channing Tatum.
The film runs long, at 140 minutes, and though it drags for a little bit, it's not unbearable. Perhaps some editing could have cut a few minutes of extraneous scenes, but in general it all works together well. The final ten minutes are taut and tense, although the very end doesn't provide much closure (although this is done intentionally). One minor nitpick I had was that none of the adults really age much in the movie. Yes, they start young in the film, but I don't think there are many people that go from age 25 to 40 without adding a wrinkle or two.
Nitpicking aside, The Place Beyond the Pines is an ambitious film, and for the most part it hits its targets. If you're looking for a good independent film with a solid story, you could do worse.
The Place Beyond the Pines gets a B.