C2E2 2018: A Weekend in Review at the Chicago Comic & Entertainment Expo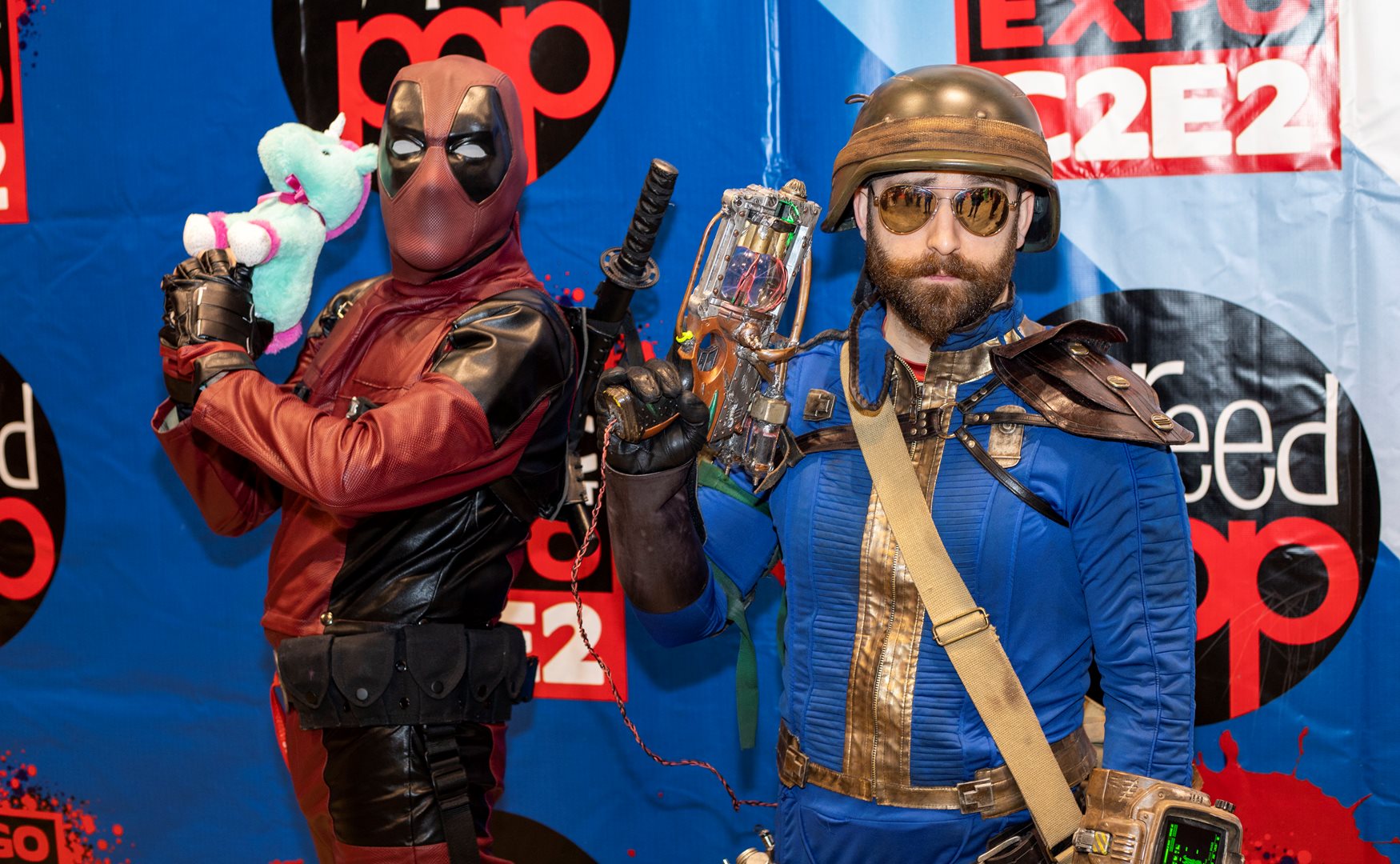 SUNDAY
At some point very early in the morning after Tank, James, and Ryan got back from the after party, Tank informed me that the hotel gym next to the club members' lounge had free fruit. So much later in the morning, I woke up feeling the full effects of a sinus infection. I needed to eat so I could take some medicine, but I didn't have much appetite so I figured that free fruit would be perfect. It was indeed, giving me enough fuel to get through my first objective of the day: the Critical Role panel.
I kind of glossed over it earlier, but for those of you that don't know… Critical Role is a live-streamed show produced by Geek and Sundry that features a group of wonderfully nerdy voice actors playing Dungeons and Dragons. They gained a massive online following with their first campaign, and just started their second this year. The panel included most of the players (Travis Willingham, Marisha Ray, Taliesin Jaffe, Sam Riegel, Liam O'Brien, and Laura Bailey) as well as the legendary dungeon master Matt Mercer. The only party member not able to make it was Ashley Johnson, who is absent from many episodes due to her shooting schedule with the NBC show Blindspot.
The massive room housing the main stage was absolutely packed with joyful Critters. All of the cast are great friends, so they had a lot of fun with the Q&A session. Sam Riegel, being the comedic genius he is, suggested they walk the runway at the front of the stage when each of them had to answer a direct question. The suggestion was taken very loosely, but each member of the show performed a hilariously wonderful walk to the end of the stage. It included Marisha dropping it like it's hot, Liam nearly leaping off the edge of the stage, and Sam unveiling a hysterical shirt featuring a still of Matt Mercer's face frozen in the middle of making a sound with his mouth. The audience was overjoyed to see their favorite D&D party offer advice, tell stories about the making of the show, and crack jokes at each other.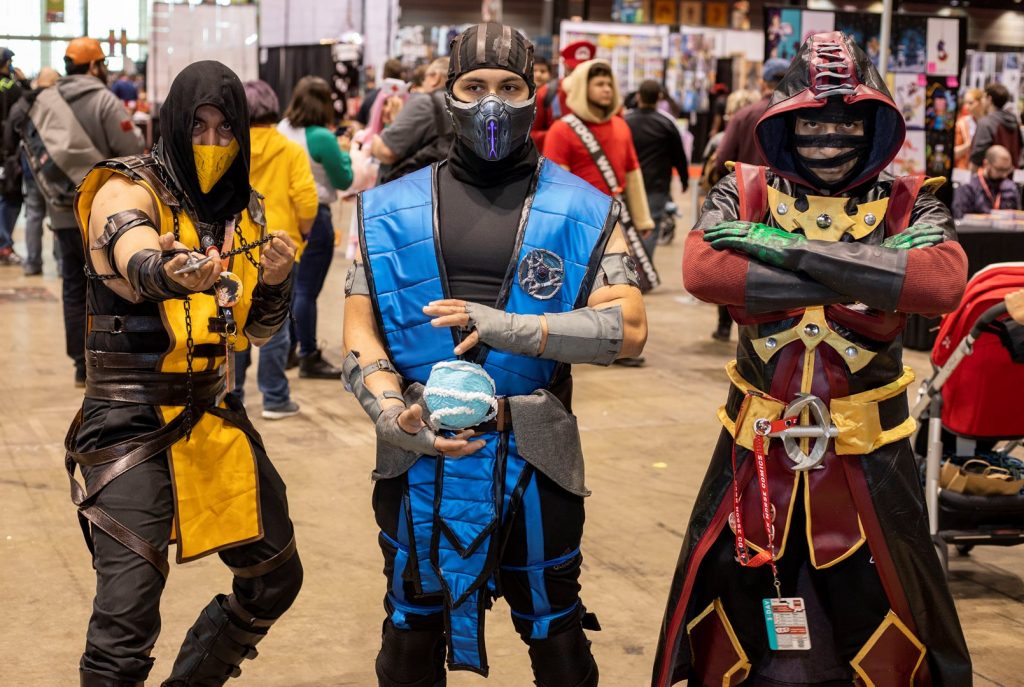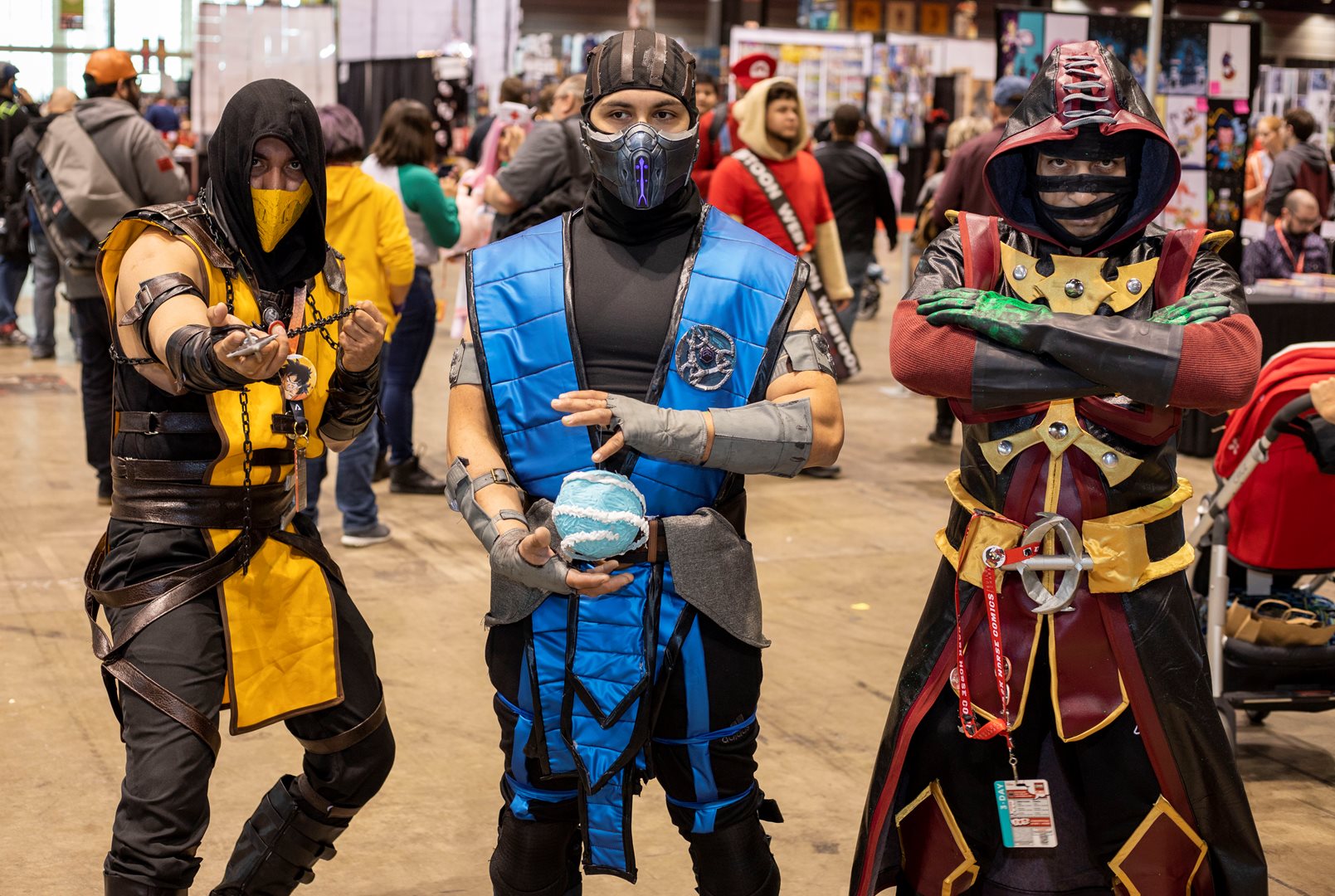 Once the panel was over, I decided it would be a good time to shop around the con floor. I like to shop for cool things at each con I attend, often finding art or clothes to pick up for myself and for gifts. Since I already had a Fallout pin from last year's C2E2, I didn't need to shop for that. It was about 1pm when I stopped for a piece of pizza, then continued on to the SYFY Wire live stage to watch an interview with the cast of Critical Role.
It was pretty short, but their exit from the stage led them by the wildlife booth. Liam O'Brien stopped to pet and hold what looked like a baby mountain lion and the rest of the cast gathered around to watch. I stood with them, thoroughly enjoying the adorable display while they took pictures. When they left the wildlife booth, I overheard Matt Mercer say they were on their way to their autograph booths. I decided to follow and check the lines. Matt's line was capped off, full of both Critical Role and Overwatch fans. The rest of the lines held a good 30-40 people, except Sam's line which was much shorter. I was really surprised to see that, but I couldn't complain though. Sam is my favorite member of the cast. I quickly jumped in line, and managed to chat with him briefly about an all Goblin campaign run by Tank. He was delighted to hear that I was playing essentially a mix of both of his characters, a Goblin Bard.
We took a couple of "quick" selfies. By quick, I mean I might have pissed off the whole line for trying to have the table attendant take a photo with my DSLR. It took a couple of tries, but he managed to get a great photo. After meeting him, I went over to Cosplay Central to in an effort to find some friends and ran into James, who is also a huge fan of Critical Role. I recalled the events leading up to that point and he took off for Sam's line as soon as I told him how short it was. He managed to get through both Sam's and Travis's line to meet both of them. When Tank met Travis for a selfie, Travis found out he was a Marine and asked for his contact information. I didn't know it at that time, but Travis does charity work with veterans. The brilliant and wonderful cast of people is the reason we all love Critical Role, and they keep giving us more reasons to love them!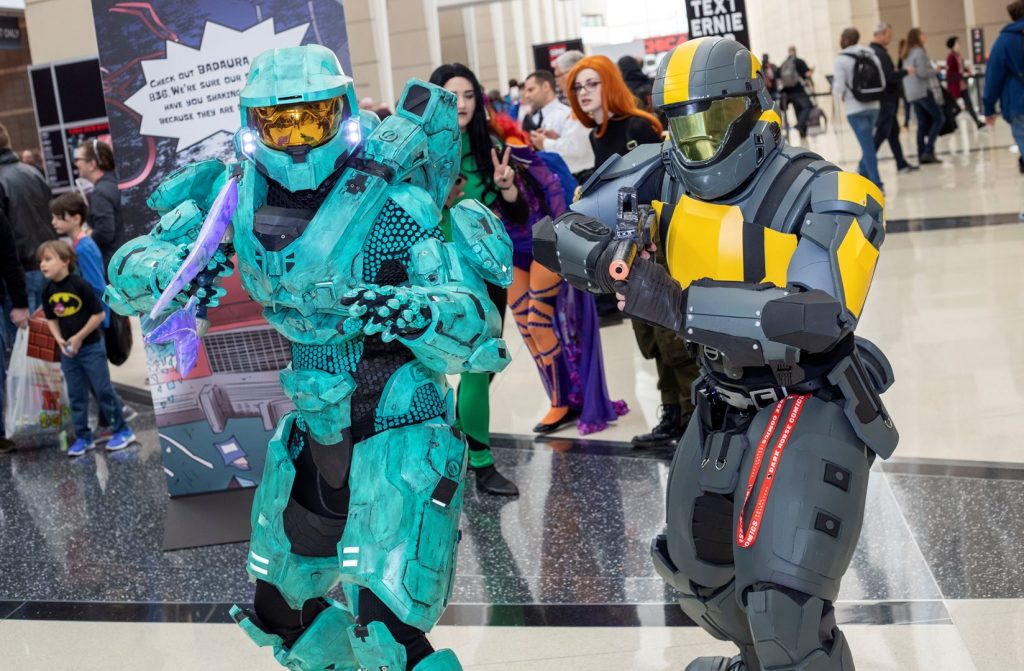 Since I missed most of the large group photoshoots, I decided to attend the Star Wars gathering. I journeyed from Cosplay Central down to the fountain in the front lobby of McCormick Place with Jenn, Sergei, and their friend Christian. Jenn and Christian were both dressed as yellow Twi'lek Sith looking as fierce as they did awesome. I'm glad I went to this shoot, because there were some great costumes on display here as over 50 Star Wars cosplayers assembled for group photos.
I left the photoshoot a bit early when my flash died and my card filled up. I figured it would be a good time to go back to the hotel room. My sinus infection was making exhaustion hit me a lot sooner than it usually would, so I wanted to ditch my camera bag and take a quick breather. Ryan and his friend were in the room, gathering Ryan's things so he could head back to St. Louis. I said goodbye to them and got a few good minutes of rest.
With about an hour left of the con, I walked back down to the con floor to do some more shopping. I stopped by the Harebrained booth to pick up a pair of the hilarious Ghostbuster underwear. It was too great to pass up. Then I went back to a booth where I noticed some creepy little statues that caught my eye earlier in the day. I spotted a series of mounted canvas prints that featured mugshots of various characters. The two that specifically caught my eye were of Jack Skellington and Sally from Nightmare Before Christmas. I took a few minutes trying to decide which one I'd rather get, then just decided to get both. I didn't want to split up the dead couple. They made a much appreciated gift for someone special in my life.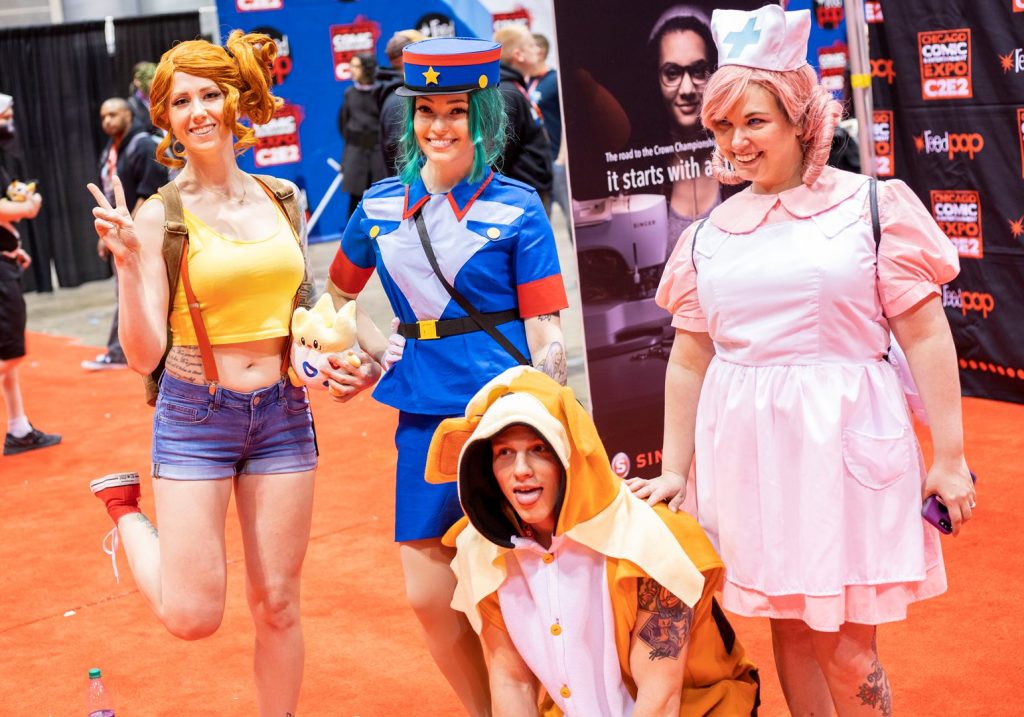 As the floor closed, I met up with my STL crew and headed back to the hotel. We made plans to eat dinner and hang out with our North Carolina friends, but it wasn't for a few hours so we decided it would be a good opportunity to take some naps and watch the Walking Dead. A couple of us managed to sleep briefly, but the fever and general pressure in my head kept me up. We decided to meet them at the Exchequer Restaurant and Pub, which turned out to be pretty awesome despite my illness.
Even though they're known for their award-winning Chicago deep dish pizza, my experience with it on Friday night kept me clear of that area in their menu. I opted for a simple burger, which ended up not being so simple. It was the biggest burger that I had eaten in a really long time. Since my appetite was still shot, I barely even made a dent in it before I had to request a to-go box. Funny thing was, my burger wasn't the biggest one at the table and I was still the only one not to finish.
We had planned to hang out past dinner, but most of us were completely wiped out by the epic weekend. Before leaving the restaurant, we assembled for a big group photo for which they provided us some mobster-themed props including a Tommy Gun. Stormy's face was twisted in maniacal glee as the hostess handed her the fake weapon. We were missing a few members of the crew, including Tank who opted for a cheaper dinner option and others who unfortunately couldn't make it to C2E2, but it was a great moment to cap off a spectacular weekend.