C2E2 2018: A Weekend in Review at the Chicago Comic & Entertainment Expo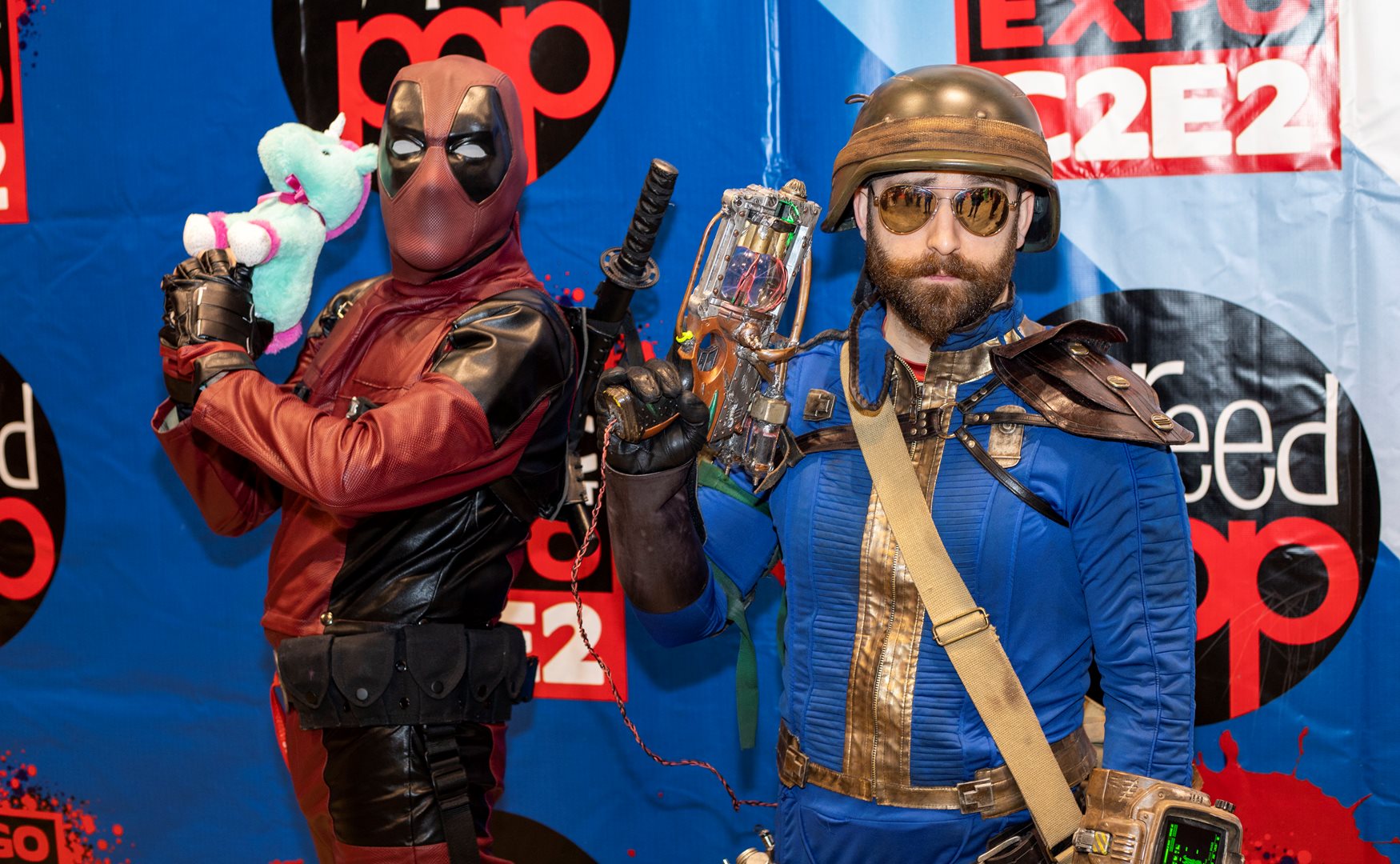 Have you ever been sick at a con? After this past weekend in Chicago, I can certainly say I have. Despite that fact, this year's C2E2 was a whole lot of fun and provided some great memories I will cherish for a long time.
This year, we were much more prepared for the con. We managed to snag a room in the Marriott Marquis, which was right across the street from McCormick Place and was connected to it and the Hyatt via sky bridges. That meant that we never had to step foot out into the frigid Chicago air until we went to get dinner each night. Fortunately, these bridges were never nearly as crowded as the ones we experienced at last year's Dragoncon.
Before I get into the meat of my con experiences, I'd like to take a moment to shout out to all of the friends I've met through C2E2. From the Chicago locals to my NC con family and even a few of my fellow St. Louisans, my network of convention friends has expanded further than I ever thought it would. The only regret I have from the weekend was not being well enough to hang out with all of you. And those of you I didn't see… luck just wasn't on our side because I definitely had an eye out for you. Celebrities and epic art aside, you people are what make these conventions great.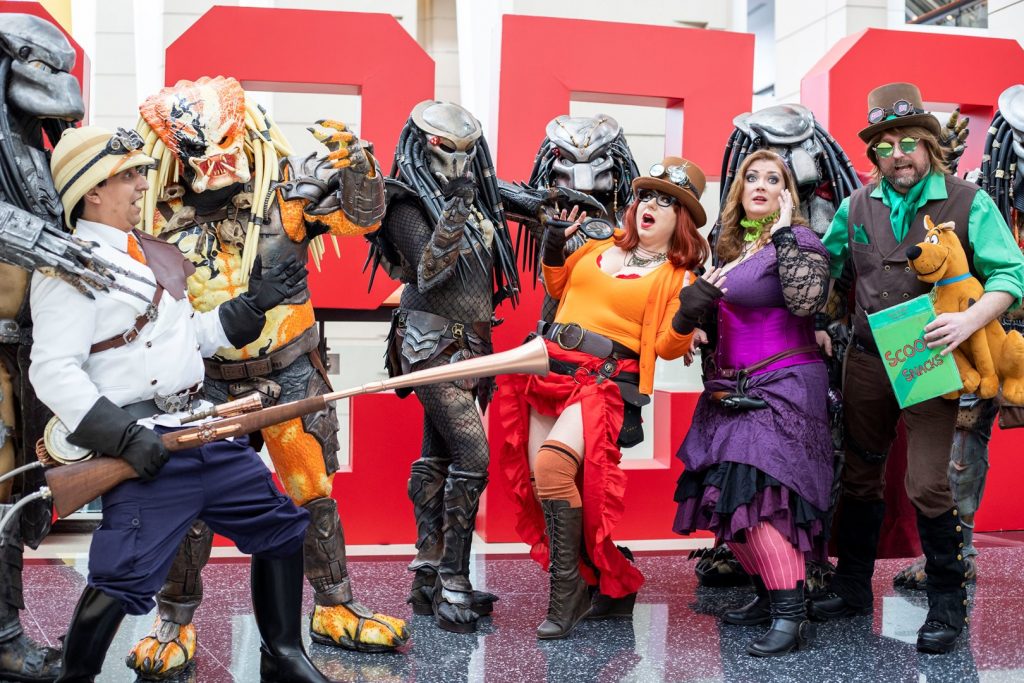 FRIDAY
Ryan Dampf (Living the Nerd Life) and I rolled into Chicago at about 3pm to join the rest of our STL crew at the Marriott Marquis. The rest of the guys, including Justin, Tom, James, and Tank, arrived shortly before us via train. Since I wasn't planning to wear a costume on Friday, we only had to drop off our bags and prep our cameras before hitting the convention.
I headed down to McCormick Place with Tank, who was dressed as the Mysterious Stranger from Fallout. After losing his hat at Supercon in Raleigh last year, I brought mine for him to use at this con. It doesn't fit all that well on my huge noggin anyway. Since I wasn't in costume on Friday, I decided to use the day to promote Beyond the Blast Doors. We've just released our first Patreon-exclusive t-shirt design. I sported it all day, showing it off to everyone I could.
Security at cons has been more prevalent than ever since the attempted shooting in Phoenix last year. C2E2 was no exception, but it was run very efficiently. Each time we had to go through metal detectors, the line went very quickly and we got through with relative ease… even in complicated, metal-ridden costumes. Shortly after getting through security, we were pleasantly greeted by several members of our wonderful North Carolina con family. They came back in greater numbers this year.
We all walked into the con floor to do some brief shopping… or briefs shopping. The first booth we hit was Harebrained, the creators of Period Panties. I had seen them at cons before, but I didn't know until C2E2 that they made men's underwear as well. We browsed their offerings until Sergei and I decided we thought the Ghostbusters boxer briefs were the funniest because they featured the phrase "Bustin' Makes Me Feel Good". Now I'm not sure if it's a direct reference, but there is a hilarious video on YouTube of the Ghostbusters music video recut to say that.
We wandered away from the booth and eventually parted ways as I got distracted by cosplayers. I bounced around like a pinball gathering both photos and videos until I spotted a trio of wonderful friends I've known since last year's Wizard World STL. Tori, a.k.a. Victori Belle, along with her sister Ali, and their best friend Rosa, were on their way to meet up with Rob Fury to interview Yaya Han, the well-known costume designer and cosplayer. Seeing Rob again made me realize something. Just about all of the Chicago locals I met last year… I hadn't seen any of them at other cons since the last C2E2. It was crazy how many of them remembered me.
After watching some of the interview, I wandered off again to gather some more footage. Since Friday was pretty light on floor traffic, it was really easy to get around. They also seemed to learn from their mistake last year and spread out the aisles a bit more. I remember last year it was very difficult to get anywhere on the floor because of the congested lanes. I made my way over to the makeshift food court to survey the weekend's options. There I met up with several members of both my STL and NC crews. We all had a beer from Revolution Brewing to close out the day. I didn't know it yet, but that beer would be the only alcohol I had all weekend.
We attempted to make plans for dinner that night, but ended up having too many people for the pizza place we wanted to go. Since pizza was still on our minds, those of us from St. Louis walked down the street to another place called Art of Pizza. By this point, my head was pounding and I felt nauseous… both signs of an oncoming migraine. I thought it was from not eating much all day, so I rushed to order a piece of pizza. Unfortunately, my appetite was shot. I barely even finished half the slice before I felt like I was going to lose it. Once we got back to the hotel, I called it a day. The rest of my friends went out to party while I went straight to bed.