C2E2 2018: A Weekend in Review at the Chicago Comic & Entertainment Expo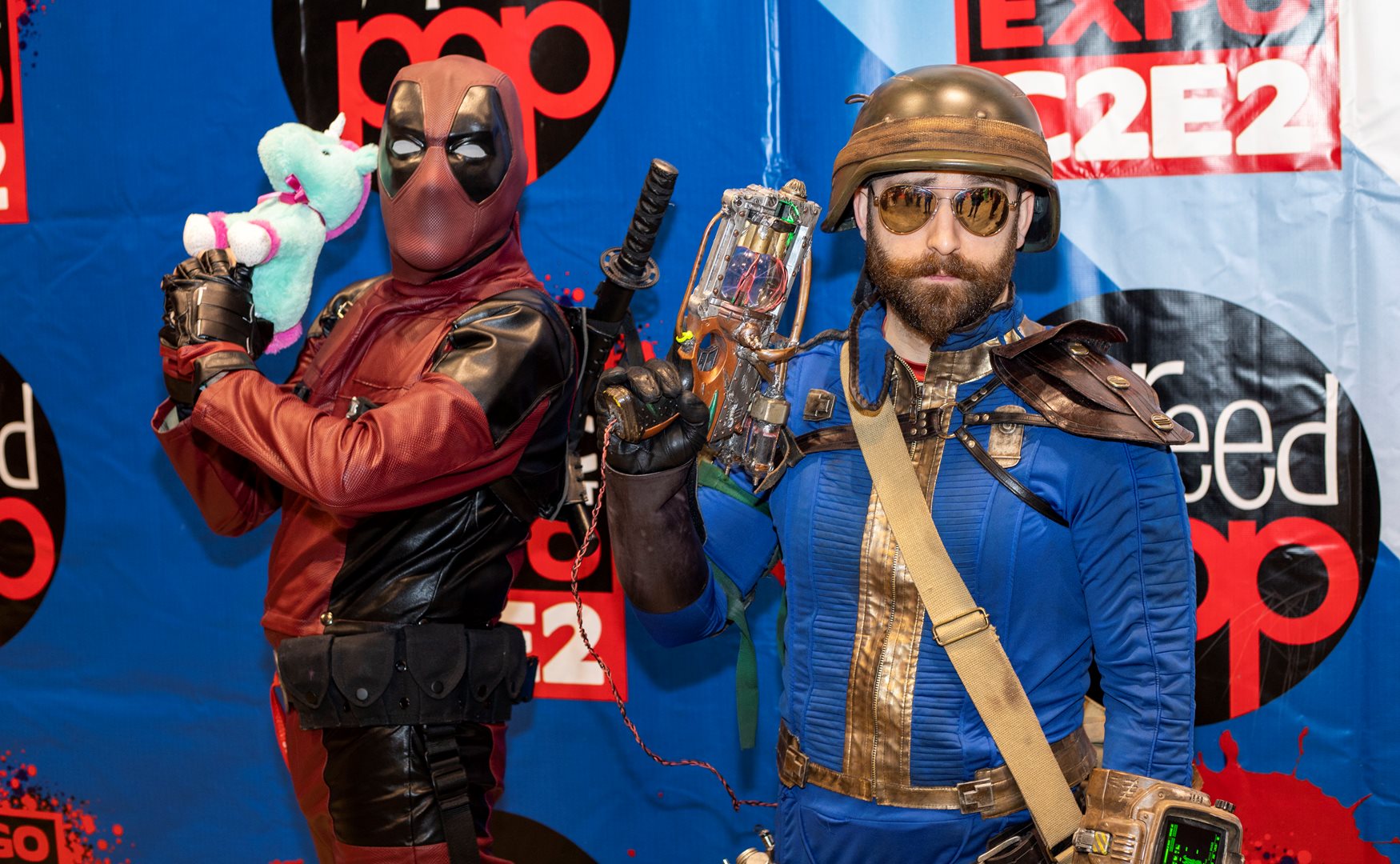 SATURDAY
On Saturday morning, I still felt a bit off. Within minutes of putting on my vault suit, I started to sweat. I was hoping to avoid a repeat of the day before, so I decided to search the hotel for food options so I could take some medicine. The first thing Justin and I found was a lounge that seemed to be serving all kinds of free food. It of course was for Marriott Club members, so we were denied. Then we ventured down into the café next to the lobby to grab some meager breakfasts to tide us over until lunch.
A hotel room close to the convention is a great thing to have… especially if you want to wear two costumes in the same day. Our friend Jenn is one such adorable crazy person, opting to wear two different Harley Quinn costumes on Saturday. We let her as well as a few of our other friends use our room as a forward base, storing things they'd need for that evening.
C2E2 Saturday is a wonderful chaos of colorful characters and costumes. We weaved through the lobby, reveling with all of our amazing fellow cosplayers. It held the same electrifying magic I had felt the year before.
It wasn't long before we visited Cosplay Central. This was the place I spent most of my time last year, so I didn't want to linger long. Well, that didn't happen. I immediately ran into several amazingly talented cosplayers I know from both Chicago and St. Louis, including Steve K. Smith in his epic Theron Guard suit, Tim Harrison of HDC Cosplay, and his lovely wife Diana Quake who was rocking an awesome steampunk Batgirl costume. I had to stop for some photos with Tim, who was also sporting a Vault Suit. I like my suit, and I'm told it looks good all the time, but Tim put some real work in and made a lot of stellar props to take his suit to the next level. Shortly after that I ran into another St. Louis friend, Ben Bregenzer, as he walked the floor waiting for his wife Amanda to finish her Officer Jenny costume. We chatted about the stuff we'd seen so far and our plans for the rest of the con while we made our way back to the lobby to find Amanda.
Time got away from me and I looked at my phone to see it was about five minutes until the Twisted Toonz panel was scheduled to start. At a near jog, I managed to make it up to the main stage with just enough time to set up my camera for the show. This particular show featured an awesome performance of Ferris Bueller's Day Off by a great array of epic voice talents. The show kicked off featuring Fred Tatasciore, Vanessa Marshall, Phil LaMarr, Tom Kenny, and Khary Payton. After a few scenes, the audience was treated to a couple of special guests: Laura Bailey and Travis Willingham of Critical Role! The audience erupted in joyful laughter as they performed a couple of scenes as their characters from the hit Geek and Sundry show. Once again, Twisted Toonz did not disappoint!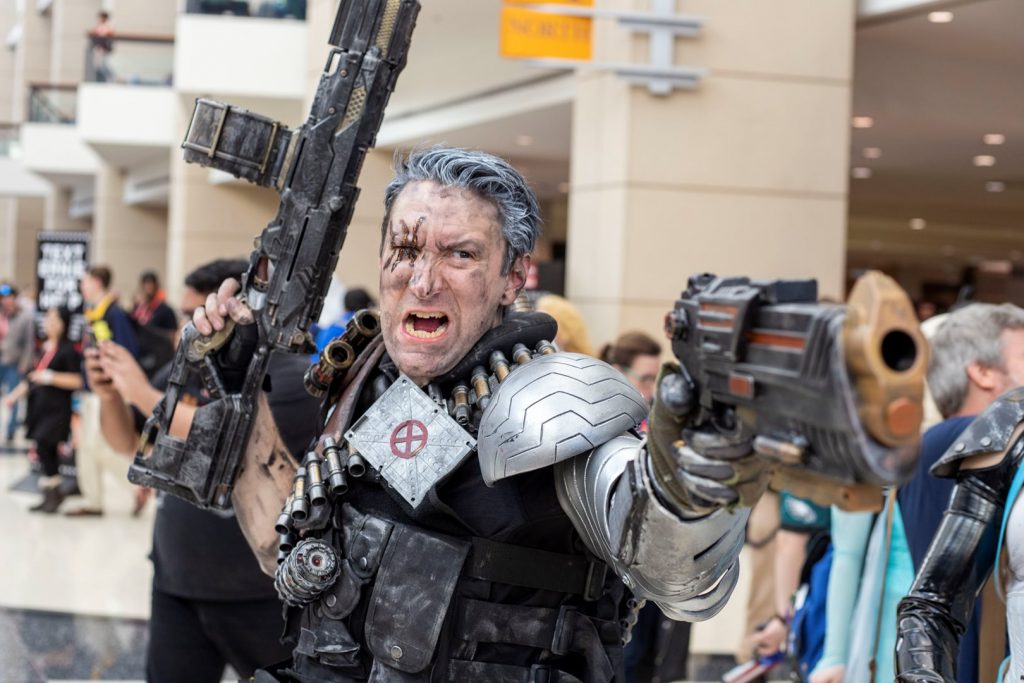 On the way out of the main hall, I met up with James along with our friends Joe and Scott. Joe and Scott were in the same Marine unit as James and Tank. Together, we all decided that it was way past lunch time and we all could use some food. As we made our way down, I ran into Scott Pope, another STL cosplayer, donning an epic set of N7 armor from Mass Effect, painted to look more like an X-Wing pilot's gear. Being a huge fan of both Mass Effect and Star Wars, I thought this was one of the coolest new costumes I saw all weekend.
Now another tip for surviving conventions: coordination! After eating our modest lunches of polish sausage and chips, a bathroom break was in order for a couple of us. A couple of minutes after James and Joe left, Scott and I agreed that we needed to get up and walk around before we got too comfortable sitting down. We took a path toward the bathrooms, but somehow missed James walking back to the table. We walked back to the table to meet with him, and then wandered back toward the bathrooms looking for Joe. We somehow missed him too, so Scott left to check the food court. Joe of course came back while Scott was gone, so we once again all returned to the food court to meet up. We should have just waited at the table.
James and I made our way back to Cosplay Central to take a look around for other friends, losing Joe and Scott to shopping. There I once again found Ben, chatting with some of our other con friends, including Ali and Rosa, while they waited for Amanda and her friends. Amanda's crew all rocked Pokémon costumes, representing Officer Jenny, Nurse Joy, and Misty. Ben flipped up the hood on his Growlithe onesie and crouched down like a dog to pose for photos.
James wandered off at some point to meet Tank, who absolutely killed it as Johnny Cage. Not only did he make for an epic Johnny, but he was the only one at a con hosting the entire cast of the original Mortal Kombat game. I wandered with a few of the others toward an ice cream stand before running into Jenn and several others of the NC crew, including Stormy and Ted dressed as Morticia and Gomez Addams. Jenn was ready to change costumes and I was honestly wearing down pretty hard. We decided to venture back to the hotel room to change and recharge for a bit.
By the time I got out of the shower and dressed, were all set on not going back to the floor. After discussing food options for the evening, Jenn and Sergei decided to go ahead to secure us some tables. By the time all the Marines gathered with me in the Marriott lobby, we discovered that they wouldn't be able to seat all of us together so we'd be on our own for a table. The restaurant in question, the Pleasant House, sounded really good and was relatively close, so we decided to meet them there. That was a good decision… the decision to walk there was not. It was just over a mile away, so we all thought it'd be fine.
What we thought would be a 20-30 minute walk ended up taking us the better part of an hour through streets that looked almost abandoned on certain blocks. The food at our destination was fantastic, but that walk might have knocked the last nail in the coffin. My sinuses started to congest and a fever started to build on our way back to the hotel to prepare for the night of after parties. I decided to call it there when I started to get a headache back. It was looking like I would be missing all the parties at C2E2 this year.