Box Office Results Are In, and "Paranormal Activity" Reigns Supreme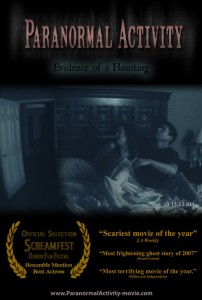 This weekend's box office numbers tell us something that was no surprise to many. "Paranormal Activity" killed again in the box office – pun intended.
The movie, which cost a mere $15,000 to make, brought in $22 million dollars over the weekend – beating out new release "Saw VI." The fifth sequel in the Saw franchise opened at $14.8 million, recouping its $11 million budget to say the least. Third in theaters nationwide was Spike Jonze's "Where the Wild Things Are," bringing in just over $14.2 million during its second week in release. It has now made almost $54 million, still trying to catch up with its $100 million budget.
In fourth was "Law Abiding Citizen," with $12.4 million dollars in its second week in theaters. Fifth place goes to "Couples Retreat" with
$10.6 million.
Two movies opened this week with disappointing numbers, bringing them in at sixth and seventh place. "Astro Boy" and "Cirque du Freak: The Vampire's Assistant" opened neck-and-neck at $6.7 million and $6.3 million respectively.
"Paranormal Activity" is sure to continue to amaze us, as it moves into its second week in wide release. Whoever made the decision to purchase the movie at Paramount is sure to have received their promotion by now. The film, now having made over $61.5 million dollars total, has now made 99.976% profit. Kudos to Oren Peli.